Teacher Professional Development Workshop
Teachers: Please join us for a fun-filled professional development day and earn four in-service hours!
Saturday, December 2, 2017 • 10 a.m. – 2 p.m.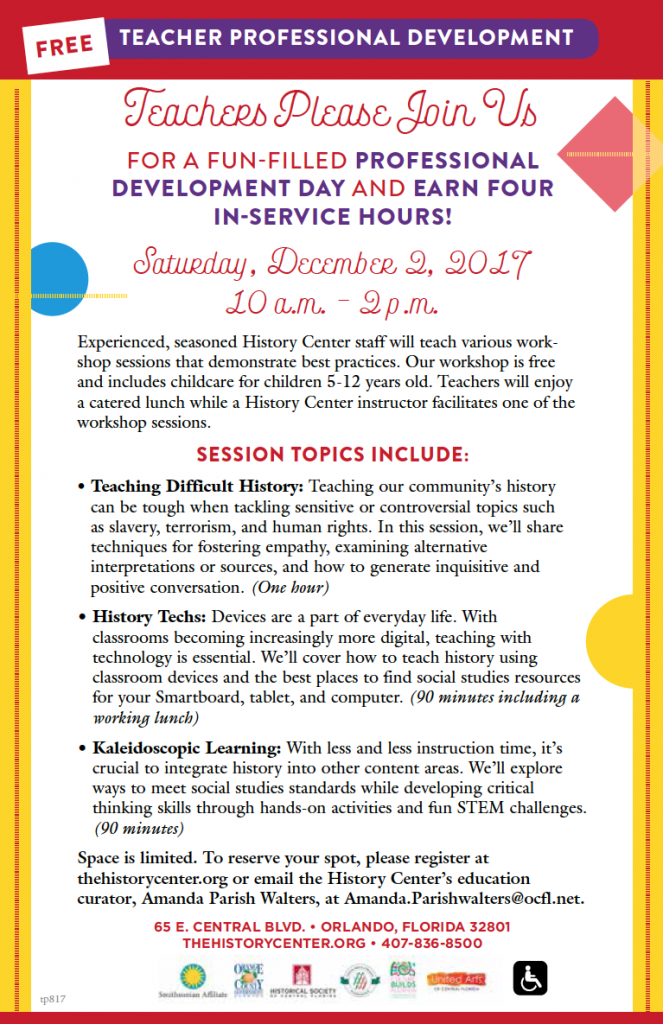 Experienced, seasoned History Center staff will teach various workshop sessions that demonstrate best practices. Our workshop is free and includes childcare for children 5-12 years old. Teachers will enjoy a catered lunch while a History Center instructor facilitates one of the workshop sessions.
Session topics include:
Teaching Difficult History: Teaching our community's history can be tough when tackling sensitive or controversial topics such as slavery, terrorism, and human rights. In this session, we'll share techniques for fostering empathy, examining alternative interpretations or sources, and how to generate inquisitive and positive conversation. (One hour)
History Techs: Devices are a part of everyday life. With classrooms becoming increasingly more digital, teaching with technology is essential. We'll cover how to teach history using classroom devices and the best places to find social studies resources for your Smartboard, tablet, and computer. (90 minutes including a working lunch)
Kaleidoscopic Learning: With less and less instruction time, it's crucial to integrate history into other content areas. We'll explore ways to meet social studies standards while developing critical thinking skills
Space is limited. To reserve your spot, please register here or email Amanda.ParishWalters@ocfl.net.
 *This workshop is open for full-time educators working in a public, charter, or private school who are required/seeking to earn in-service hours in order to maintain their teaching certification or receive professional development. 
Lesson Plan Downloads
Field Trips
• Kindergarten Field Trip Lesson Plans
• Grades 1-2 Field Trip Lesson Plans
• Grades 3-5 Field Trip Lesson Plans
• Grades 6-12 Field Trip Lesson Plans
History on the Go – Play Lesson Plans
• Cow & Horse Lesson Plan
• Cracker Family Lesson Plan
• First Contact: La Florida Lesson Plan
• Habitat Hullabaloo Lesson Plan
• Pioneer Portraits Lesson Plan
History on the Go – Teach-In Lesson Plans
• Teach-in Fighting for Florida Lesson Plan
• Teach-in Native American Lesson Plan
The History Center offers helpful resources for educators. Check this page often for new additions and changes!