Monday, June 4 – Friday, August 10
History and fun collide at our Adventures in History summer camp program. We have exciting changes this year, including new themes, history-focused activities, and more field trips and special programs. Campers will enjoy a mix of themed activities, performances, exploration in the museum's exhibits, field trips in downtown Orlando and via the SunRail, and much more. Your child is sure to have a historic summer adventure!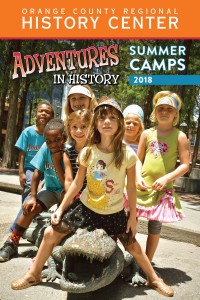 (PDF)Learn more about each camp here (PDF). Your children are sure to leave with lasting memories.
We offer three classes, divided by age group: (1) ages 6-7, (2) ages 8-9, and (3) ages 10-11.
Camp Tuition Includes:
• Morning and after care
• Field trip
• Camp t-shirt
• Snacks for all students, two times daily
• Pizza party for all students on Friday
Camp Hours
Camp: 9 a.m. – 4 p.m.
Morning Care: 7:30 a.m. – 9 a.m.
After Care: 4 p.m. – 6 p.m.
Camp Pricing
(Starting April 16)
$150 History Center Members
$175 Non-Members
Note: Orange County employees receive the same discount as History Center members. Call 407-836-8580 for details.
Step 1: Select Your Camp
Click on the camp of your choice on the chart. A new page will open with the camp date and age level. History Center members should sign in or register on the site at this point. Fill in the quantity field – if you have one child, enter 1, for example – and click on the "Register" button. The full price will first be shown on the form, but early-bird and History Center member discounts will automatically apply before you complete your transaction.
Tacky Tourist
*Museum is closed on July 4th. Pricing for July 2-6 is prorated to reflect a four-day week.
Step 2: Register for Additional Camps (if desired)
If you're registering a child or children for multiple camps, simply return to the chart and choose each camp separately. Click on the camp you desire and repeat Step 1.
Near the top right corner, you'll see an option to auto-fill information from previous registrations. You'll need to repeat the registration-information process for each additional camp. When registration is complete for all camps, click on "Update Cart" and check out.
To Register by Fax or Mail
You may also download a registration form here (PDF), complete it, and mail or fax it to the History Center at the address or fax number on the form.
Please note that online registration guarantees your camp sessions right away, whereas mail registration takes up to a week.
For more information or help with registration, please call 407-836-8580.
Field Trips
All campers will go on at least one field trip per week. Destinations and times vary depending on the camp theme, age group, and availability. Field trip locales may include:
History Center Membership Advantages
Buy a Family Level membership for as low as $55 to receive an additional $25 off per week of camp. Plus, enjoy a year of free admission to the History Center for the whole family, discounts on education programs, and invitations to special events.
Curious About Our Camps?
Join us for a camp open house on Saturday, May 19, to view classrooms, see the drop off/pick up areas, review curriculum samples, and meet camp teachers!
The History Center will offer free admission during open house from 10 a.m.-2 p.m. Feel free to drop by for 30 minutes or two hours! No registration required.