The Story of the History Center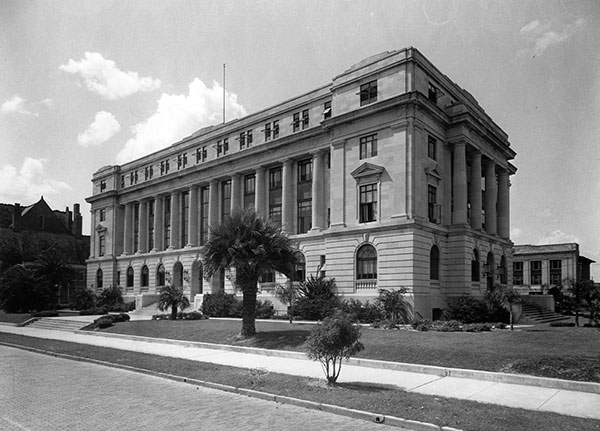 OUR MISSION: To serve as the gateway for community engagement, education, and inspiration by preserving and sharing Central Florida's continually unfolding story.
OUR VISION: We explore the past to deepen our understanding of the world, to evoke empathy, and to inspire action toward a better future.
The Orange County Regional History Center's story begins at the historic heart of the community and is entwined with the county's series of courthouses – most of which occupied the spot next to the History Center that's now Heritage Square park.
From Heritage Square, Orlando's city limits were platted in 1857. Florida was wild frontier: Razorback hogs rubbed their backs against wooden courthouse steps. But as the city and county grew, a grand brownstone courthouse rose in 1892. In 1927, a neoclassical revival building – now the History Center's home — was added and became the main courthouse.
By 1942, the community looked back and sought to remember a century of history through a pioneer-times display in the old brownstone courthouse. The popular exhibit grew, fueled by donations that became the foundation of the Historical Society of Central Florida's present collection at the History Center.
When the brownstone courthouse was demolished in 1957, the Board of County Commissioners established a historical commission to carry on the work begun in 1942, leading eventually to the 1976 opening of Orange County Historical Museum in Orlando's Loch Haven Park – precursor to the History Center.
Almost 20 years later, in 1995, Orange County debuted its current, high-rise courthouse, and a task force of community leaders unanimously recommended that the 1927 courthouse become a larger, regional history museum. The result – the Orange County Regional History Center – opened in September 2000 to critical acclaim and national awards.