Reflections Magazine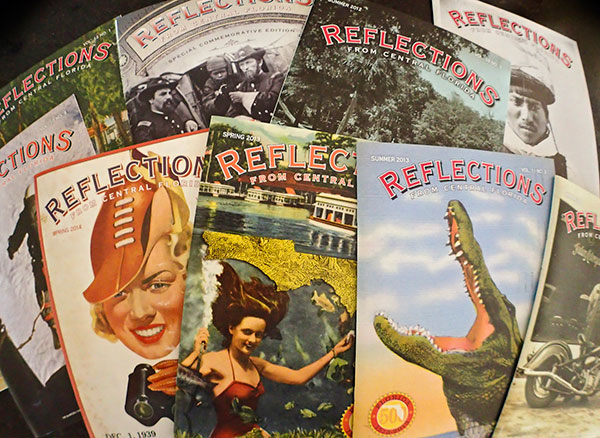 Reflections from Central Florida is the magazine of the Historical Society of Central Florida, Inc. at the Orange County Regional History Center. Currently, in the 21st year of publication, Reflections reveals the span of human history in Central Florida from the Seminole people to space exploration. The mission of this full-color publication is to shed a light on little-known facts of local history and to delve deeper into the stories from the region that have national relevance. Mailed to the members of the Historical Society of Central Florida, this magazine is a valuable contribution to the history literacy of the region. The magazine focuses on the Florida counties included within the History Center's reach: Orange, Osceola, Seminole, Volusia, Lake, Brevard, and Polk.
Download a recent issue here.
Article submission
Articles should be submitted in electronic form as a Microsoft Word file, typed double spaced, and textual style generally follows AP Style.
Contributors are encouraged to submit high-resolution images with their text.
Articles should be written in clear, jargon-free English with adequate but not excessive documentation.
Manuscripts should be approximately 800 to 1,200 words. Longer manuscripts will be considered only in exceptional circumstances.
Manuscripts should be submitted to the Reflections managing editor, Rick Kilby, at rkilby@cfl.rr.com. Authors are encouraged to e-mail the editor at the same address should they have additional questions.