Bring the History Center to your school. No busing or transportation needed!
History on the Go Workshops
History Center staff will visit your classroom for a live lesson and accompanying activities. Workshop highlights include the integration of hands-on STEM challenges and the use of museum replicas, games, and art as mediums for teaching history.
Available workshop themes: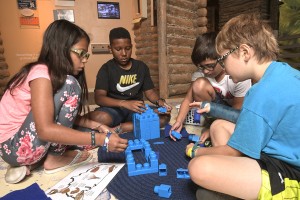 Florida's Indigenous People
(Recommended for grades 2 – 4)
Learn about the culture and traditions of the Timucua and the Seminoles, as well as the affect of European colonization on Florida's native peoples.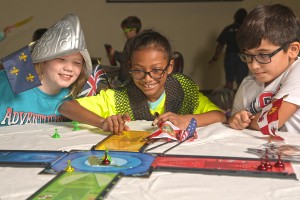 Expedition Florida
(Recommended for grades 4 and 5)
Learn about the European explorers' motives for gaining control of Florida and the hardships the pioneers later faced as they fought to survive on the Florida frontier.
.

Florida's Fight for Freedom
(Recommended for grades 4 and up)
Learn about Black leaders in Florida who played an important role in paving the road towards equality, as well as the history of Black communities in Florida from Fort Mose to Eatonville.
Cost for History on the Go Workshops is $150 per class.
Grant funding is available for eligible Orange County public schools on a first-come, first-served basis.
All workshop themes are also available virtually. For more information visit the Virtual Programs page.
Museum in a Box
Museum in a Box is an object-based, multimedia learning experience that brings the History Center into your classroom! This self-contained program is easily facilitated by teachers. Inside the box, you'll find an audio player, along with artifacts and replicas. When you place the objects on the top of the box, an audio response will play. Over the period of a week, you can incorporate the box into your social studies curriculum and share it among your grade level.
Here's how it works:
Museum in a Box includes:
• Audio box with replicas and real artifacts
• Supplemental activities and a standard-based lesson plan
• Easy-to-clean objects with instructions and materials for disinfecting between use in each classroom
• Pre-recorded, 30-minute guided tour of the History Center's permanent exhibitions that can be incorporated into your social studies lesson before or after the Museum in a Box experience
Available themes:
Florida's First People
(Recommended for grades 2 and up)
This experience provides an overview of Florida's indigenous cultures, including the Timucua, Seminoles, and Windover Bog, an ancient burial site.
Ocoee Election Day Massacre of 1920
The year 2020 marked the 100-year anniversary of the Ocoee Massacre, which remains the largest incident of voting-day violence in United States history. The Orange County Regional History Center's previous special exhibition, Yesterday, This Was Home: The Ocoee Massacre of 1920, took a close look at this historical event and its lasting repercussions. The landmark exhibition explored not only this horrific time in our community's past, but also historical and recent incidents of racism, hatred, and terror, some right here at home.
The content encourages a reflection on a century of social transformation, the power of perspective, and the importance of exercising the right to vote, and asks what lessons history can inspire moving forward.
To ensure that students continue to have an opportunity to gain a greater understanding of this historical event, even with the physical exhibition no longer on display, we are offering a virtual tour experience of the exhibition.
The Virtual Workshop includes:
Pre-recorded tour of Yesterday, This Was Home: The Ocoee Massacre of 1920, led by the History Center's Executive Director
Live Q&A discussion after the virtual tour, led by History Center education staff
Accompanying lesson unit that aligns with Florida State Standards
We recommend scheduling the virtual workshop over two days: one class session for the virtual tour, and one class session for the live discussion.
The live discussion can be facilitated through your school's preferred virtual platform and can be experienced by multiple classes simultaneously depending on your scheduling needs.
The cost for Museum in a Box is $100 for one week, $75 for each additional week, plus shipping and handling. Boxes can be picked up and dropped off at the History Center to avoid shipping costs. For schools outside the seven-county Central Florida region, an additional week of rental is required to cover the time the box is in transit.
Grant funding is available for eligible Orange County public schools on a first-come, first-serve basis. Click here for an application.
To register for a Classroom Workshop or Museum in a Box program, please visit thehistorycenter.org/education/history-in-the-classroom, call the Education Department at 407-836-8556, or email Mary "Katie" Kelley.