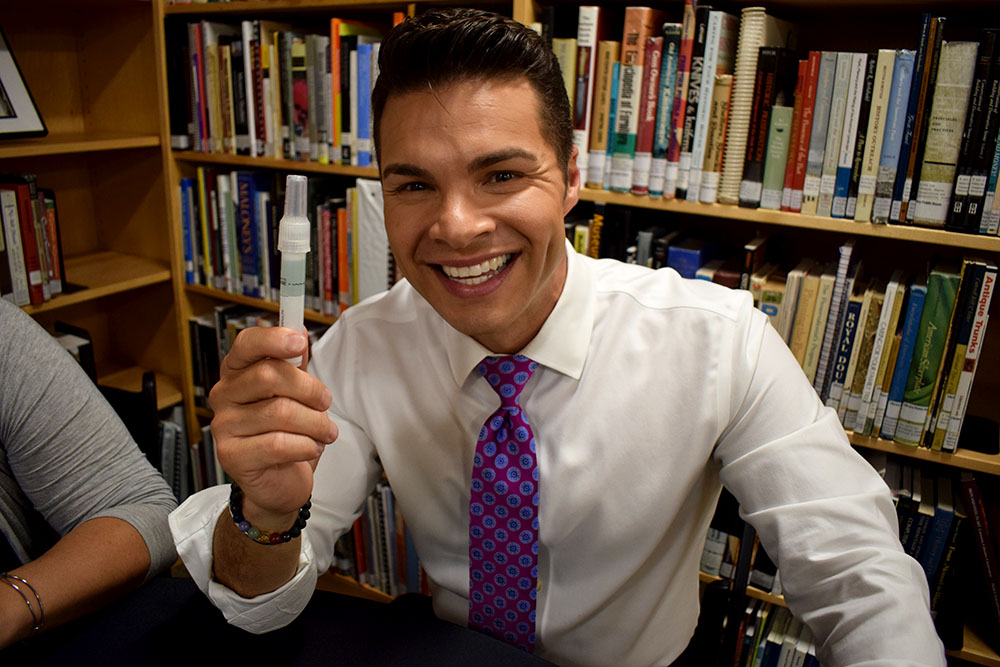 Article originally published in the Fall 2018 edition of Reflections from Central Florida
by Pamela Schwartz, Chief Curator
Do you descend from an American Patriot? Was your grandfather a Lacrosse champion? Maybe your fourth great-grandmother was born on a ship out at sea?
As individuals, we have 4,096 biological tenth great-grandparents. So, in just ten generations we have at least 8,190 surnames and interesting stories and lives to explore.
This fall the History Center will host the Smithsonian Institution's traveling exhibition called Genome: Unlocking Life's Code. It examines the complexities of the genome – the complete set of genetic or hereditary material of a living organism – and chronicles the remarkable breakthroughs that have taken place.
From the moment you enter the exhibition, you will find yourself immersed in a cutting-edge interactive, futuristic environment that communicates the revolutionary nature of genomics. The exhibition offers a window into genomes that provides new ways of looking at yourself as an individual, as members of a family and a species, and as part of the diversity of life on Earth.
The Genome exhibition is organized around four content areas: The Genome Within Us, how it relates to medicine and health; Your Genome, Your Health, how it connects humans to all of life on the planet; Connections: Natural World and Genomic Journey; and a special area custom designed by the History Center that explores Central Florida's genomic and ancestral roots.
Within each area, numerous topics are explored through the latest imagery, hands-on and media interactives, videos, and other engaging content. By viewing examples of ways that genome science can affect your life in ordinary and extraordinary ways, you will also come to learn how genomics can impact perspectives about health, identity, and the place of humans in the natural world. For the first time, the History Center has expanded this STEM oriented exhibition to take a historical perspective.
Our local history elements will include three distinctive genomic ties to Central Florida: in the study of archaeological findings at Windover Bog, in the development of citrus, and through the family trees of Central Floridians.
Windover Bog
In the Spring 2018 Reflections, the History Center's curator of collections, Lesleyanne Drake, described how human remains were discovered in 1982 near the edge of a pond at Windover Farms in Brevard County, in what turned out to be one of the most significant archaeological discoveries of the 20th century.
Archaeologists uncovered a minimum of 168 skeletons, including 91 with preserved brain tissue, that were more than 7,000 years old – over 2,000 years older than the Egyptian pyramids – making the findings at Windover one of the oldest and largest discoveries of human remains in the New World.
DNA testing of the Windover remains has confirmed scientists' theories about human migration, but it has also been misconstrued and used as ammunition in a troubling culture war that continues to this day. This exhibit will include never-before-seen artifacts from the site.
Citrus Breeding
Melissa Procko, the History Center's research librarian, has explored the migration patterns of ancestral citrus, which can be traced as far back as eight million years and Hundreds of years of cross-breeding and domestication of citrus has led to a diverse family tree, not unlike our own. Today, there are hundreds, if not thousands, of different kinds of citrus. We may not be able to send their saliva off to a lab to determine their ancestry, but most of the kinds of citrus that Florida is known for today can still be linked to their ancestral parents and places of origin.
DNA for Genealogy
If you have ever seen popular ancestry television shows such as "Who Do You Think You Are?" or "Finding Your Roots," then you'll likely be fascinated to experience our own local celebrity version. History Center staff carefully selected a diverse group of participants based on a wide range of criteria. Meet our local influencers and what little we knew about them as we began this project.
Buddy Dyer, mayor of Orlando, whose family has been in Central Florida for several generations
Jorge Estevez, WFTV Channel 9 news anchor, born in America to parents who emigrated from Cuba
Brendan O'Connor, editor-in-chief at Bungalower.com local-news website, born in Canada
Toni Pressley, Orlando Pride soccer team defender, born in Central Florida
Geraldine Thompson, former Florida state representative and senator, born in Louisiana
To begin each participant's genealogical journey, we started with an Ancestry DNA test and a simple fact-finding interview. Many services offer DNA testing, but we chose to use the Ancestry.com kit so that we could link our participants to their family tree as we conducted research.
Because the kits take several weeks to process, we requested that our participants give us as much family-tree information as they could to help us get started. Such fact-finding usually begins with a person's name and the names of their parents and grandparents and also includes additional information such as birthdate, marriage, death date if it applies, and the locations of each of those events.
Genealogical DNA tests look at the specific locations of a person's genome in order to determine ancestral ethnicity, as well as genealogical relationships amongst individuals who have also taken the same company's tests. We chose autosomal DNA kits, wherein the information is contained in an individual's 23 pairs of chromosomes. This DNA recombines every generation, and new offspring receives one set of chromosomes from each parent.
Many DNA kit companies produce an "ethnicity estimate," a chart of your approximate ethnic breakdown by percentage. This information is based on a test group – in other words, you and everybody else who has done a DNA test with the same company are compared against one another. Though not flawless, because the science of genomics is constantly changing and refining, these results can give you a fairly accurate idea about where you get your genes.
I have been conducting genealogical research for more than 15 years and even I was intrigued, stumped, or surprised many times along the way by our five candidates' family trees. To learn of all the fascinating things we uncovered about several of our city's finest, you'll have to come, visit, and enjoy our exhibition.
Are you interested in exploring your Central Florida family ties? Or, are you a budding genealogist in general? Check out our website, the historycenter.org, for upcoming related programming or workshops.
You can also make an appointment to visit our Brechner Research Library and utilize our growing collection of historical resources by contacting Melissa Procko, 407-836-8538, or at Melissa.procko@ocfl.net.