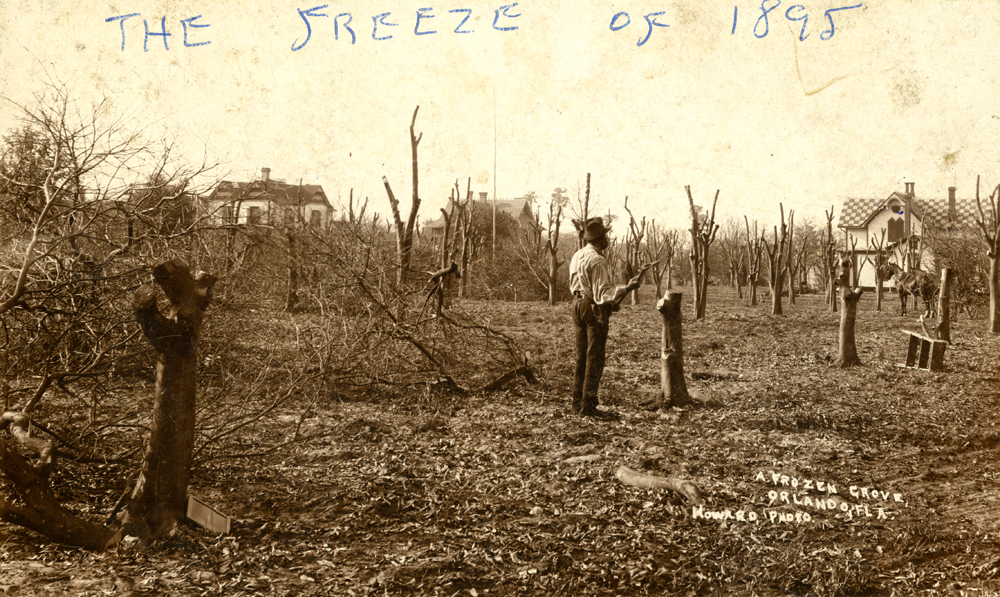 On Dec. 29, 1894, Central Florida felt the first wallop in the one-two punch of cold that came to be called the Great Freeze of 1894-1895.
It's the event that, according to legend, scared some citrus-growing English settlers into skedaddling so fast they left unwashed dishes on the dining room table.
Christmas Day in 1894 was beautiful, but by December 29, a terrific rainstorm blew in, plunging temperatures to at least 18 degrees in Orlando.
Years ago, one old-timer who had grown up near Frostproof (in Polk County) recalled temperatures of 7 degrees. He was a boy in 1894, and when a small lake near his house froze, he ventured out on the ice, only to get a paddling from his worried father.
The punishment for the area's citrus industry from the post-Christmas blast and its follow-up freeze on Feb. 7, 1895, was much more serious. After the Great Freeze, growers reported 21,737 acres planted in citrus and not one box produced. Nada. The December freeze killed the fruit; the February one killed the trees.
The economic setback lasted for more than a decade, but the change in the citrus industry continued for a century. Few small growers had the capital to wait the seven years required for a new tree to bear fruit, so large growers came to dominate the citrus business.
Citrus did come back, though. In the 1920s, thousands of acres of groves surrounded the city, and in the 1920s twelve great packing houses lined the railroad in downtown Orlando. More than half of Florida's annual citrus crop passed through Orlando on its way to market, according to the Summer 2016 edition of History Center's Reflections magazine.