Teach-in Workshops
The Teach-In program sends History Center staff to teach a workshop within individual classrooms. The highlight of the program is the integration of STEM and the use of popular games and toys as the medium for teaching history. Through exploratory play, students are learning about historical topics and making connections between past and present.
The Teach-In program aligns with Florida Standards and includes a one-hour lesson per class. The program is designed to serve one whole grade level and may require multiple dates, depending on the number of classes and academic schedules.
Two program themes are available: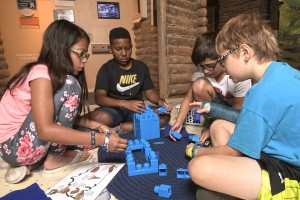 Native Americans
(Recommended for grades 2 and 4)
Students will learn about Florida's Native American tribes and compare/contrast them with native tribes from other regions of the U.S. They'll also discover why European explorers came to Florida and how their colonization impacted the culture and livelihood of the native peoples. Students will conduct a STEM challenge using a variety of building materials and have the opportunity to touch replicas and primary sources including conquistador armor, Seminole patchwork, animal furs and more! Download the Native American lesson plan here.

Fighting for Florida
(Recommended for grade 4)
Students will learn about the European explorers' motives for conquest and the conflict among countries as they fought to gain control over this valuable peninsula. They'll also learn about the hardships the pioneers endured as they struggled to survive in a new, harsh climate and their continuous conflict for land with the Seminole Indians. Students will play modified versions of Sorry Sliders and Spot It, do a STEM challenge using Lincoln Logs and various building materials, and explore pioneer replicas. It's a history lesson they'll never forget! Download the Florida lesson plan here.
Cost: $350 per grade level up to eight classes. Please note that a mileage fee will be incurred for bookings more than 30 miles from the History Center.
Plays and Puppet Shows
Cow and Horse Pioneer Puppet Show
(Recommended for pre-K through grade 1)
Buckaroo the horse and his bovine friend, Cowabunga, take students back to the early days of pioneers in an interactive show filled with fun and facts about the Florida frontier. 30 minutes. Download the Cow and Horse lesson plan here.
Cost: $250 for up to 125 students.

Cracker Family
(Recommended for grades 2 and up)
Pests, maladies, cookin' and bickerin' are all in a day's worth of homesteading for this Florida Cracker family. Help them prepare for a trip to town amidst a lively repartee chronicling existence on the 19th-century Florida frontier. 30-45 minutes. Download the Cracker Family lesson plan here.
Cost: $350 for up to 125 students.
First Contact: La Florida
(Recommended for grades 3 and up)
Two worlds collide as Juan Ponce de León first sets foot in Florida in the 16th century. Students participate in the fateful introduction of European culture in Native American territory as Ponce and his Timucuan counterpart strive to communicate, connect, and cooperate. 30-45 minutes. Download the First Contact lesson plan here.
Cost: $350 for up to 125 students.
Traveling Trailblazers (Available Spring 2019)
(Recommended for 2nd grade and up; 30 minutes.)
Florida's history is full of trailblazers – from activists to artists and engineers to inventors. Look through the "lens" and discover how each influential individual helped shape our state.
Three show themes are available:
Breaking Barriers – Bessie Coleman, Zora Neale Hurston, Clara Frye, Mary McLeod Bethune, and Ray Charles
Artful Adventures – Mary Blair, Marjorie Kinnan Rawlings, Ginger Stanley Hallowell, Anna Elizabeth Allen, and Dick Pope
Full STEM Ahead – Henry Flagler, Henry Sanford, Henry Ford, John Young, and Jackie Cochran
 Cost: $250 for up to 125 students.
Questions
For more information, contact Shannon Elliott, at Shannon.Elliott@ocfl.net or call 407-836-8545.
Orange County Public Schools are offered History on the Go programs free of charge thanks to a grant by United Arts of Central Florida. Please click here to download an application for the chance to have your History on the Go program funded. Schools will be selected on a first-come, first-served basis. Only Orange County Public Schools are eligible.