Volunteer Opportunities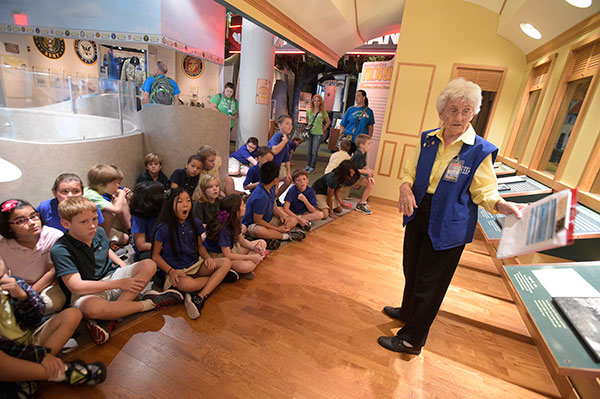 Your time and talents can truly make a difference. The rewards are rich as you help future generations learn and grow. In addition to working with young people, we offer volunteer opportunities as interns, hosts at our events, and assistants in the Joseph L. Brechner Research Center.
Summer 2018 Volunteer Program
The History Center seeks active, vibrant volunteers for special opportunities leading groups of children through the museum beginning June 4, 2018.
Learn fascinating tales from the past
Inspire tomorrow's change-makers
One-day-a-week commitment this summer
Refer a friend and receive two free admission passes
Open House Information Sessions
• Monday, April 16, 9 – 10 a.m.
• Friday, April 27, 9 – 10 a.m.
Orientation and Training
• Friday, May 4, 10 a.m. – 3 p.m.
• Wednesday, May 23, 10 a.m. – 3 p.m.
For more information and to register, please contact our volunteer coordinator, Diane Masciale, at 407-836-8523 or e-mail her at Diane.Masciale@ocfl.net.
Benefits for Active Volunteers
An engaging, rewarding experience
Special tours of exhibitions
Opportunities to learn through docent training
Free parking validation during scheduled volunteer shifts
A 10 percent discount in our gift shop
Quarterly appreciation brunches
Recognition during National Volunteer Appreciation Week each April
After 100 hours of volunteer service:
– Complimentary individual membership
– Eligibility for President's Volunteer Service Award