By Jeremy Hileman, Assistant Curator, from the Fall 2023 issue of Reflections Magazine
For some people, it can take a lifetime to discover what they are truly passionate about. There are those among us, however, who seem to have known what moves them right from the very beginning. For Martha Esch, who grew up in the northeastern Ohio suburb of Fairview Park during the 1960s, aviation captured her imagination as a child and has been an enduring love ever since.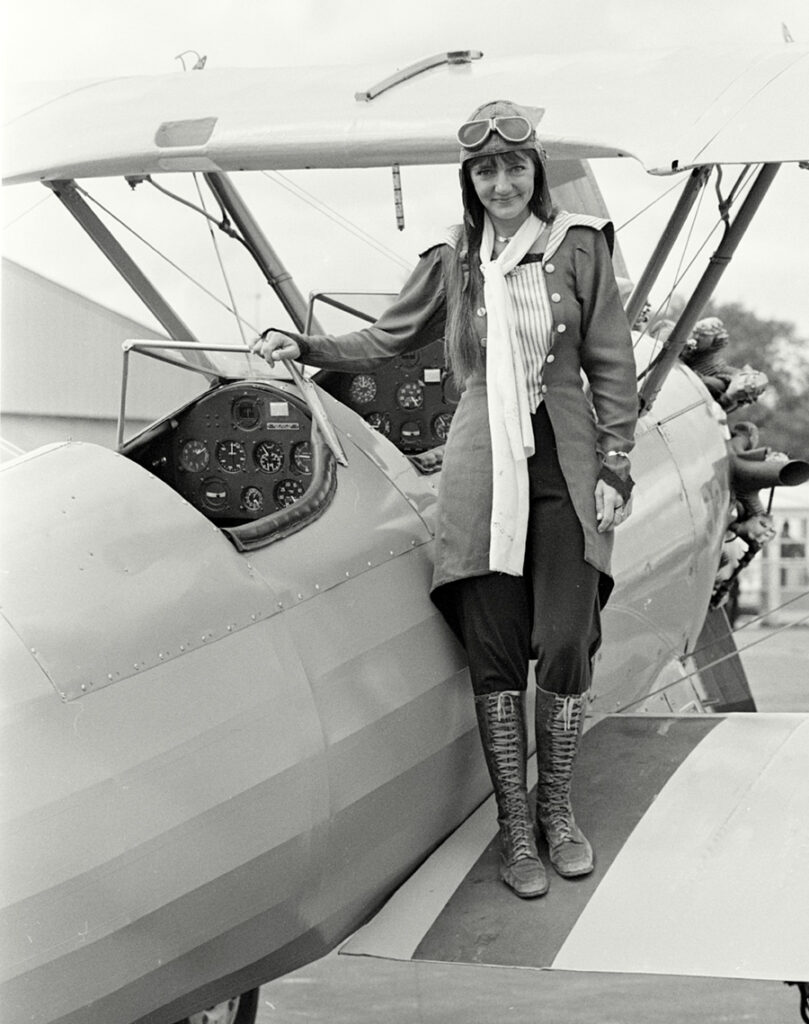 Lights and shadows
The Esch family home was situated just across a valley from the Cleveland Hopkins International Airport, a source of a great fascination to young Martha, who often spent evenings staring out the living room window at the twinkling runway lights in the distance.
When the sun was shining, she challenged herself to catch the silhouettes of passing planes in the grass behind her house. "I could see the airplane's shadow going right across our backyard. And I would try to run for it and hit the shadow, and I felt like that was good luck," Esch recalls. "I loved watching the airplanes fly over and always wondered what it would look like to be up in one looking down." Soon, she would find out.
At age 14, she took her first flight, riding in a 1920s era Ford Trimotor plane at the invitation of a classmate's family. If there was any doubt previously, her passion for aviation was fully ignited. Esch was particularly fond of vintage aircraft, which she affectionately refers to as "aeroplanes" to differentiate them from more modern counterparts.
A routine visit to the library as an 11th grader would prove influential. "I found a book on the bookshelf that totally directed . . . the path of the rest of my life," Esch recalls. Published in 1973, the book, Vagabonding in America by Ed Buryn, is a counter-culture guide to exploring the United States.
In a short passage titled "Airplane Hitching," Buryn describes a lesser-utilized form of hitchhiking in which the individual in need of a ride approaches not motorists on the highway but private pilots in small airplanes. "That's what I'm going to do," Esch declared to herself. She borrowed the book over and over again until the librarian suggested other students be given a turn.
The day after her school's senior prom – "which I was not invited to," Esch is quick to point out – she hitchhiked via airplane for the very first time. She would make it all the way to Montreal, Quebec, but had to make the return trip on a Greyhound bus because of a 1976 Canadian air traffic controller strike.
Though she came from a loving family and experienced a happy upbringing, Esch would always feel the call of adventure. "It was a very nice little place that we lived, but I wanted to see the world," she recalls. The summer after her high school graduation, she drove to Florida, where her interest in painting led to the opening of a modest art supply store in Madeira Beach. Though the operation was short-lived, it allowed her to spend her days creating art and enjoying the beauty of the Sunshine State.
Esch returned to Ohio to seek higher education. At Kent State University, she studied both art and aerospace flight technology and graduated in 1981 with a bachelor's degree. During her time in college, she worked on the line crew at the school's airport, clearing snow from the tarmac and fueling small planes. She also earned her commercial pilot's license and worked as a flight instructor.
Following college, Esch again made her way south, ending up in Central Florida after a stint in the Keys. Her brother lived in Winter Springs, not far from the Orlando County Airport in Apopka (now known as the Orlando Apopka Airport), so she sought permission from the airport's owners to park her RV on the property and became immersed in aviation culture.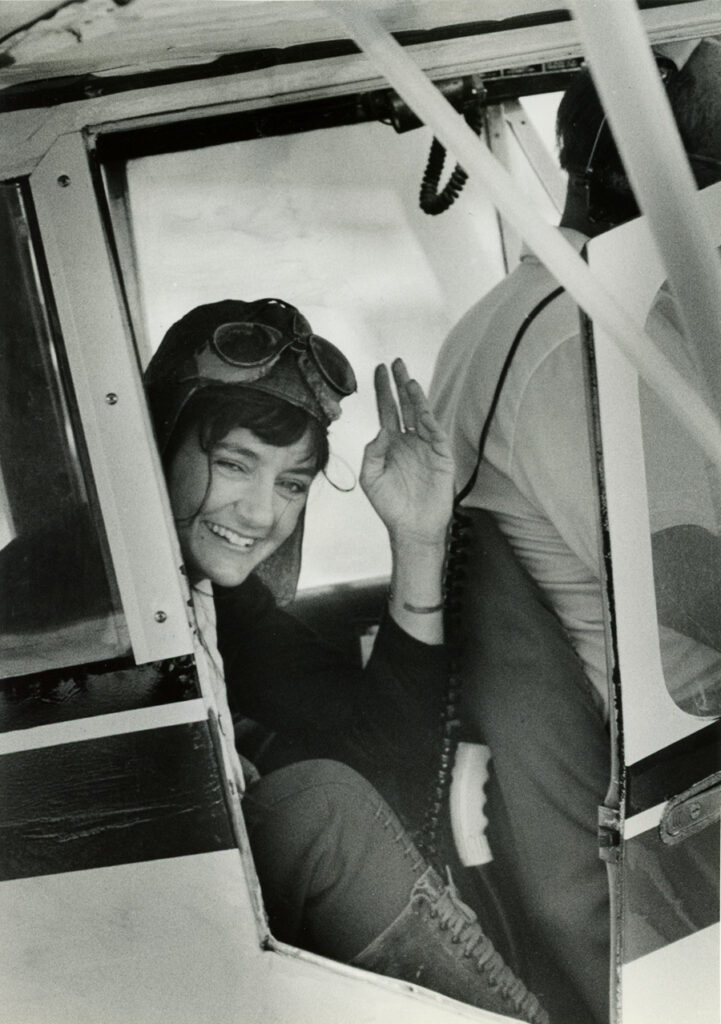 Barnstorming across 48 states
In 1987, Martha began plotting her most ambitious trip to date, hitchhiking in and out of each of the 48 contiguous United States in the old-fashioned airplanes she was so passionate about. For nearly 10 months, she would spend her mornings sitting in a café, hand-writing letters to aviation enthusiasts around the country, asking if they would provide rides or put her in touch with someone who could. "I knew there was enough generosity amongst these people with the antique aeroplanes," she says.
She devised self-imposed parameters to guide her barnstorming tour. "I had lots of rules for myself," she laughs. First and foremost, all the planes in which she traveled were required to be vintage in nature, defined as being at least 25 years old. She could spend time doing other activities while in a given location, but she had to return to the airfield where she had been dropped off and board a plane there in order to advance.
The stage was set, and on May 28, 1988, at the Orlando Executive Airport, a 29-year-old Martha Esch would begin the journey of a lifetime. Originally, her plan was to take the very first flight with aviation pioneer and famed Air Force Colonel Joe Kittinger.
That initial flight with Kittinger was not to be, however; his 1943 Stearman biplane, part of the Rosie O'Grady's Flying Circus, was experiencing engine trouble. Instead, the distinction of being the first pilot of the journey went to Mac Barksdale in his 1946 Aeronca Champion.
It would take six rides that first day for Esch to get across the Florida-Alabama border. With nothing more than a backpack of essentials and 12 typed pages of contacts she had gathered during her planning stage, she would begin chipping away at her list of states. Her pre-trip leg work had resulted in a story in Flying magazine, giving her a bit of notoriety among the flying community that proved helpful in securing rides. At airports, she was easy to spot, in her traveling outfit reminiscent of a pilot from a bygone era: high laced boots, leather helmet, and flying goggles.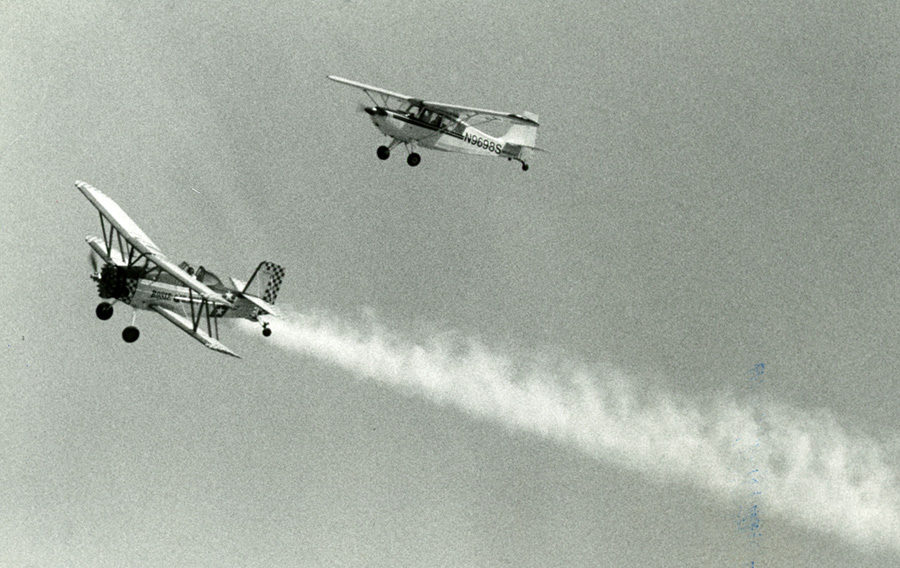 Making it work
Despite the early fanfare, the trip was not always glamorous. At night, Esch slept wherever she could: on the floors of airplane hangars and in abandoned flight control towers, in empty passenger terminals, and even in an airport limo that conveniently had been left unlocked overnight. The days when she struggled to find a ride seemed to drag on, as she waited alone in hopes that her luck had not run out entirely. Somehow, she always made it work.
There were also times that made the struggles worth it. Stunning views of the Grand Canyon, Niagara Falls, and the Grand Tetons. An airshow in Oshkosh, Wisconsin, a motorcycle rally in Sturgis, South Dakota, and a night out at a roadside honkytonk in Laramie, Wyoming. All the unique and wonderful things that make America worthy of exploration. With each new day, Esch experienced a little more of the world she had always longed to see.
More than anything, she found the beauty in connecting with others. Some of the pilots Esch flew with would keep contact with her for years to come, and others she would never see again. Regardless of how long she knew them, she still considers each and every one a friend who helped make her dream a reality.
All told, it took 330 flights and 199 different pilots to successfully complete the goal of visiting 48 states. A total of 29,117 miles and 183 days after she left, Esch returned to Orlando on November 26, 1988. Joe Kittinger made good on his promise to participate, piloting the final flight of the trip. She was welcomed back by a crowd of supporters, none more important to Esch than her family, who traveled to share in her excitement at the culmination of such a monumental effort.
"It was a marvelous welcome home," she says. The journey had come to an end, but the memories made would stick with her forever.
After the completion of her trip, Martha drove cross-country to California, which serves as her home base to this very day. She currently owns a bed and breakfast in the city of Locke, near Sacramento. In the winter months, when tourism wanes and her business is shuttered, Esch travels by van, usually finding her way back to Central Florida for brief stints.
During these visits, Martha puts her artistic skills to work, hand-lettering names on boats and other signage using genuine gold leaf, an increasingly rare skill. She also enjoys spending time with her two adult children, Charlie and Mary, of whom she is incredibly proud. The three even formed a family band, releasing an album together in 2019 under the name "Sismombro."
It has long been Esch's goal to complete a book about her experiences during her 1988 trip. Drawing from her meticulous flight logs, as well as her thoughtful (and humorous) personal insights, the manuscript is a hit in the making for a potential publisher. Esch's working title is "Have Goggles, Will Travel." If released, it will no doubt serve as a source of inspiration to untold numbers of young adventurers, much like Vagabonding in America did for Esch herself.
Many years removed from one of her greatest journeys, she is still following her passions with an uncommon enthusiasm. She has lived the sort of life that many people daydream about, but few have the courage to truly pursue. "If something turns you on, go find a way to do it," she advises. With a never-ending supply of great stories to show for her efforts, Martha Esch has undoubtably always found a way.