By Travis Puterbaugh, Curator of Collections
From recollections from folks who lived in Central Florida decades ago to the reflections of people making history today, the oral histories in the Orange County Regional History Center's collection reveal the rich diversity of our region. Here's a look at an oral history with a reporter who found Central Florida a great place to hone her skills.
My introduction to Erin Ailworth began with the discovery of an article from 2005 in a research-subject file simply labeled "Crime." Not just any article, but a Florida Man special about a New Smyrna Beach paramedic who was so drunk at a party that he bit the head off a live parrot.
The article described a scene in which the parrot, "Izzy," had been sitting on a guest's shoulder when the fire department lieutenant grabbed the bird, bit off its head, and then dropped it on the floor. The visual evoked a horrific moment in time, and curious to find out what eventually happened to the man who committed this act of animal cruelty, I reached out to the reporter who covered the story, Erin Ailworth.
Ailworth currently works as a reporter for The Wall Street Journal, but in the mid-2000s she worked as a reporter for the Orlando Sentinel, covering stories all across the newspaper's readership area.
"It's hard to forget that story," Ailworth replied in response to an email I sent asking if she recalled any details about the incident. I extended her an offer to be the subject of an oral history interview for the Orange County Regional History Center collection based on her time as a Sentinel reporter. Close to six months passed after our conversation and then I received an email from Ailworth in which she mentioned how the Netflix show Florida Man jogged her memory of our discussion, as well as a story about being in a bus crash with wrestler "Hacksaw" Jim Duggan she had just told to her editor.
Based on that tidbit alone, the oral history interview had to happen.
Conducted by the History Center's historian, Rachel Williams, the oral history interview touched on all aspects of Ailworth's life, from her background growing up in California – where at the age of 7 she decided she wanted to be a journalist – to her college education at Northwestern University in Chicago and how that led to a Los Angeles Timesfellowship and ultimately her first professional job with the Orlando Sentinel in 2004.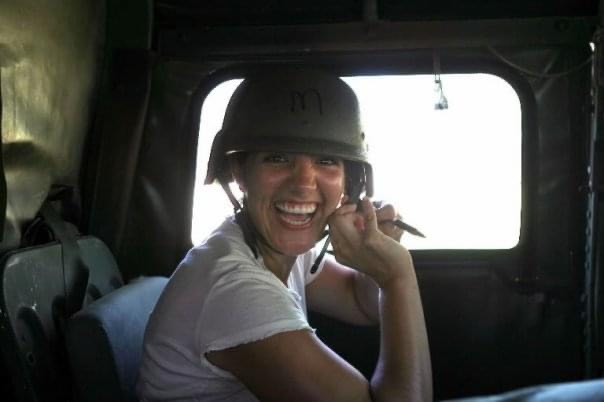 A historic hurricane season
The Sentinel assigned Ailworth to cover news in Volusia County, but her arrival in September coincided with the historic hurricane season of 2004, so she was lent out to the Osceola branch to cover Hurricane Jeanne, the last of the four major hurricanes to make landfall in Florida. This helped prepare her for one of the most monumental stories she would cover as a Sentinel reporter.
"That prompted me to tell my editor, listen, if this is going to keep happening, I need as much hurricane experience as possible," Ailworth recalls. "So, I will tell you right here right now I will volunteer for whatever hurricane coverage comes up. Well, what happens? 2005, Hurricane Katrina… it was definitely a seminal moment, one of those building-block moments in my career trajectory for sure."
Ailworth's story of being embedded in Biloxi, Mississippi, in the aftermath of Katrina – and how she helped text message family members of people she interviewed to let them know their loved ones were alive – was just one of many compelling stories she related during her oral history interview. Quirky features and weird stories – such as the one involving Izzy the parrot and another about a giant African Nile monitor running wild on the streets of Deltona – were all part of her repertoire while in Central Florida, as well as more routine, day-to-day news.
An accident with "Hacksaw"
Ailworth became an unwitting part of a story she was covering in October 2005 during the infamous school bus accident at the New Smyrna Speedway involving "Hacksaw" Jim Duggan.  She was a passenger in the bus Duggan was driving when the bus flipped after taking a curve too fast, and Ailworth bounced around inside of it.
A TV news report mentioned that she had not been wearing a seatbelt, failing to take into account that school buses typically do not have seatbelts except for the driver. Still, Ailworth recalled being subjected to many vitriolic emails chiding her for her carelessness.
"Every so often you might have to do a few, sort of acrobatics to stay out of the story," Ailworth says, "but I've never otherwise been on the news."
Though her path ultimately led her out of Florida in 2007, Ailworth's resume includes extensive runs at the Boston Globe and The Wall Street Journal, her employer since 2014. During a career in journalism that has seen Ailworth cover monumental events such as natural disasters, the Boston Marathon bombing, the murder of George Floyd, and most recently, the federal court arraignment of Donald Trump in Miami, she considers her time at the Sentinel as foundational to her career, a place where she learned how to be a reporter, how to cover big events, and even how to be a good colleague.
"I'm not sure any other state would have prepared me quite as well as Florida did," she says.
Ailworth looks back on her time here with fondness and sums up the life-changing experience succinctly:
"Sometimes fun, sometimes crazy, always interesting."