By Matt Moryc, from the Winter 2016 edition of Reflections magazine
There is no shortage of visual icons in Orange County; theme parks, lakes, sunsets, and orange groves are a few that come to mind. Until 1985, there was never an official, single image to define and represent this area of Central Florida, but that changed when Orange County Commissioner Vera Carter decided there should be an official flag to represent the county's best features and growing identity. That call was answered by Orlando artist Richard Daniel Adams.
Adams (who goes by "Daniel") grew up in Jacksonville before moving to Orange Park, where he graduated from high school in 1971. His post-graduation plan included a cross-country road trip with a stop at the place he had visited for its opening in 1955: Disneyland. "Someone called and told me they had a job for me back in Florida teaching local art classes. When I got back to Florida in August the job wasn't there. So, I decided to give [Walt Disney World] a shot. I drove on down and applied for a position, wanting anything in the art field," recalls Adams.
Adams was hired in August 1971, two months ahead of the Oct. 1 opening of Walt Disney World. He started out in the foods department at the Contemporary Resort Hotel as a decorator before eventually moving on to work as a portrait artist. In 1980 Adams was working for the creative design firm of Walt Disney Productions called WED Enterprises (now known as Walt Disney Imagineering), where he worked on projects for Tokyo Disneyland and EPCOT Center. By mid-decade he became the Magic Kingdom's senior preparatory artist; it was during this time he saw an advertisement in the Orlando Sentinel searching for residents to submit their design ideas for a county flag.
Commissioning a flag
In 1984 the Orange County government completed its move to the new County Administration Building at 201 Rosalind Ave. in Orlando. Outside the entrance stood three flagpoles – one for the U.S. flag, one for the state of Florida, and one for the county. A flag had been discussed in the past, and Commissioner Carter decided it was time. According to comptroller notes from March 4, 1985, Carter recommended that the new flag should include symbols of sunshine, clean air, lakes, and orange trees.
The advertisement for a design appeared in the Sentinel on May 12, 1985 and offered a prize of $500 for the winner. County administrative assistant Jim Hartmann was assigned to coordinate the contest, and the board of the local American Institute of Architects agreed to receive the entries and narrow the choice to three final designs to be judged by the Board of County Commissioners.
Adams got to work, sketching out a few ideas every morning. "I had a few days to work on it," he recalls. "I just closed my eyes and imagined what Orange County was blessed with, and how it could all fit together. I didn't want to put anything about Disney or the other theme parks on it for fear of copyright infringements."
Hundreds of designs were entered. "At least 600," Adams recalls. "The walls were full of them. I have been told that when Vera Carter saw my design, she immediately exclaimed 'This is it!' A lot of the designs were posted in the newspapers, and then it was down to the final three."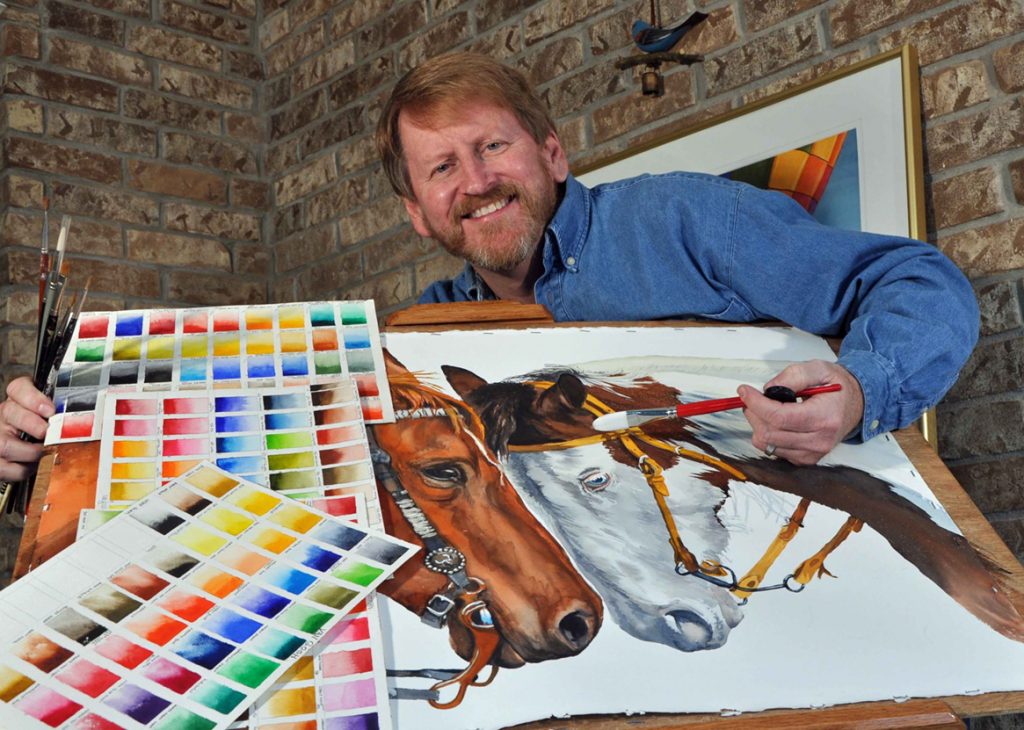 The Controversy
Before the finalists were announced, controversy arose over the balloting process to select the winner. On Monday, June 10, all five members of the county commission wrote their votes on pieces of paper and handed them to Hartmann, who counted them and shared the results only with Carter and County Administrator Jim Harris. The secret ballot violated Florida's Sunshine Law, which requires right of access to governmental proceedings at both the state and local levels.
At the time, Harris told the Sentinel that the secret ballot was probably illegal, but the commission decided to go ahead with the vote because it was "all in fun." The commission wanted to announce the winner at a ceremony later in the week on Flag Day, and the "only way to do that was through a secret ballot," he said.
Carter added that she didn't see a big problem. "I always look at the intent of the Sunshine Law and the intent is not to manipulate decisions behind closed doors." County Commissioner Lou Treadway succinctly added that he was "not going to lose any sleep over it."
When asked in a 2015 phone interview about his recollection of the controversy over the flag selection, Jim Hartmann – now the manager of Wake County, N.C. – said the articles in the Orlando Sentinel citing a violation of state law were done "tongue-in-cheek" and he could not remember any specific person or persons who were upset about the voting process.
Controversy aside, Adams and two other finalists, Robert Snell of Orlando and Cathy Messer of Ocoee, were announced on June 11. Adams' design depicted a radiant Florida sun over a silhouette of the Orlando skyline, a passenger jet, orange grove, a lake with stands of cypress trees, an egret and a sailboat. Those elements are encircled by a rainbow on the top half and oranges blended with green leaves on the bottom half. The design was altered slightly before the unveiling so that the words "Orange County Florida" could be added on top of the rainbow.
Adams' winning design was announced in a ceremony at the new administration building at noon on June 14, 1985, the 100th anniversary of National Flag Day. In her speech at the event, Vera Carter said the new flag "symbolizes so many of the things that Orange County is famous for." Shortly after the unveiling, officials in neighboring Osceola County – who were, at the time, upset with a proposed resort tax on their hotels that would have sent money to help promote tourism in Orange County – poked fun at the flag through an article in the Orlando Sentinel claiming the design looked similar to their county's flag.
"I'm not saying the guy copied our design, but the similarities are amusing," said Osceola County Commission Chairman Mike Bast. Ever one to take his work seriously, Adams wrote a response that was published in the Sentinel. "So, you see," he wrote in conclusion, "God and the natural beauty of Orange County were my inspiration, not your logo."
Commemorative Art
In late 1985 Adams would again have his artwork recognized when he was selected as one of six finalists to design a new Florida license plate. His entry depicting a space shuttle during takeoff was not selected, but the next year, it was revived and modified for Florida's commemorative license plate honoring the Space Shuttle Challenger.
Adams' flag still flies on the flagpole that inspired the idea to find an identity for Orange County. The artist now lives in Texas, and his original artwork for the flag design resides in the Historical Society of Central Florida's archival collection at the Orange County Regional History Center.