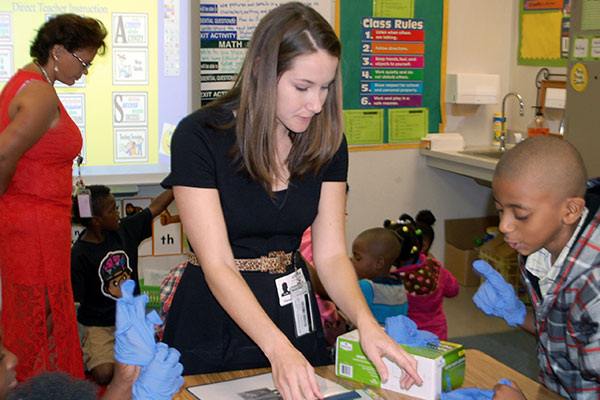 Over the past decade, the number of school field trips taken to museums each year has been on the decline. Many factors contribute to this trend, including budget cuts, time constraints, standardized testing, and changes in curriculum. To counter these growing obstacles, educators at the Orange County Regional History Center and elsewhere are thinking outside the box to bring history to students.
Less Money, More Tests
Tight school budgets often lead to program cuts. According to the American Association of School Administrators, more than three-quarters of schools consider their districts to be inadequately funded. These budget deficits have caused deferred purchasing of textbooks, the elimination of after-school programs, and decreased funding for extracurricular activities and field trips. These programs are often the first to go because it's not easy to relate them directly to the results of the standardized tests now prevalent in schools.
These tests, along with time constraints and changes in curriculum, are also an influential factor when school leaders consider field trips for their students. Rachael Martin of NPR recently noted that, between kindergarten and graduation, students take a reported 112 standardized tests. Depending on the individual student, this number could be even higher. With so many tests to prepare for, teachers simply don't have the time for field trips to a museum or other cultural institution. And as standardized tests change to reflect shifting educational trends, teachers often must spend as much time learning new material as their students do!
The loss of field trips does affect young learners, according to a recent study by Jay P. Greene, Brian Kisida, and Daniel H. Bowen, who examined the educational value of such programs in conjunction with Crystal Bridges Museum of American Art in Bentonville, Ark. Using data gleaned from pupils and teachers at 123 different schools, the authors found that those who participated in field trips at cultural institutions showed improvements in critical thinking and increased tolerance for cultural diversity.
These improvements were especially prominent in students from rural areas. This study provided evidence that students benefit from informal learning in cultural institutions — something that many regarded as just a theory before.
Museums Reach Out
What are museums doing to counter this decline in field trips? Most institutions have aligned their programs with state and federal standards to counter time constraints. Teachers can now use these programs as a part of their curriculum, a means of enhancing a particular lesson. These standards can be presented to administrators as a justification for a particular field trip.
To combat budget constraints, museums have gotten quite creative over the years. The Louvre in Paris offers virtual tours that change on a regular basis, allowing students to explore one of the most famous museums in the world. The American Museum of Natural History reaches isolated areas of New York through its "Moveable Museum" — an RV with an entire exhibit inside. The Museum of Latin American Art in Long Beach raised money to buy their own school bus to transport students to and from their institution. Science museums including the Boston Museum of Science and the Daytona Museum of Arts & Sciences take their lessons on the go, and the Brevard Zoo and the Central Florida Zoo bring animals to schools. Many Orlando museums partner with United Arts to provide field trips free of charge to local schools in need.
By thinking outside of the box, these institutions (as well as many others around the world) are working to ensure that students do not miss out on the extraordinary opportunities that museums provide.
Innovation at the History Center
Here at the Orange County Regional History Center, staff members work diligently to ensure that students in Central Florida have the opportunity to experience history, even if they aren't able to visit on a field trip.
Our Education Department is currently developing a specialized offsite program that will bring History Center staff members into the classroom. When the program officially launches (which is projected for the 2016-17 school year), teachers will be able to select a topic that best fits their curriculum, and an educator will go into the classroom and teach a one-hour lesson. Topics include animals and habitats of Florida, Native Americans, explorers and conquest, and archaeology.
Teachers can expect a well-rounded experience that will engage the students and enhance what they are currently teaching. Our educators will bring history to life through hands-on primary sources and replicas as well as activities and educational games. Teachers will also receive a lesson plan. The program will correlate with state standards, and the activities will vary by grade level.
Even though many schools have had to limit their offsite trips, this new outreach program will allow the History Center to continue to serve Central Florida schools in a new and vital way. Our goal is to serve as many students as possible, whether they visit on a field trip, reserve a "History on the Go" play, or invite us to teach in their classrooms. The museum strives to continuously provide innovative programs that align with current learning practices and with ever-changing trends in education.
To learn more about our educational programs, contact our school services coordinator, Amanda Parish Walters, at Amanda.ParishWalters@ocfl.net or 407-836-8376.