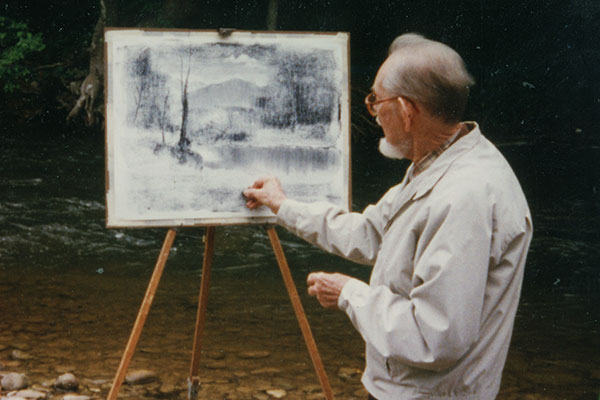 Memoirs and photos from the longtime Central Florida artist's estate reveal a lifetime in the arts
Ralph L. Bagley is a household name for many who studied art while growing up in Central Florida. His passion for teaching and his integral role in the art community have earned him the posthumous title of "Art Legend of Orange County" – one of 20 people so designated for years 1932 to 1982 (see artlegendsoc.org).
Shortly before the Art Legends of Orange County project announced its 20 honorees in the fall of 2015, the Historical Society of Central Florida received a donation of assorted documents and photographs from the estate of Bagley, who died in 2008 at 94. This collection of correspondence, memoirs, sketches, and images opens a fascinating window on the artist's life and legacy.
Lessons of a Missouri youth
Ralph Bagley was born in Missouri in 1913. One especially moving piece in the collection is a short memoir about the end of his two-year stay with his Aunt Clara in the small town of Oran, Mo. Bagley recalls the poverty in which they lived and his struggle to stay in school rather than work at the Kroger grocery store full time.
He shares stories about his two best friends, Hayden and George, recalling that Hayden once asked permission to buy him groceries. Bagley accepted, but it bothered him greatly to do so: "I was suffering from the malady common in those days and almost extinct today," he writes. "It was pride. We had pride then, everyone seemed to have pride."
The vignette concludes with the heart-wrenching account of Bagley pulling Hayden and George's lifeless bodies from a derailed train car only days before he and his aunt were scheduled to move in with his grandfather in Thebes, Ill.
"Leaving Oran at this crucial time taught me that we do not leave tragedy behind and alleviate suffering by moving away from it," Bagley writes. "I'm sure this tragedy remained with me more vividly and for a longer time than with anyone else in Oran."
Pioneer for the arts
The sensitivity and sincerity of Bagley's writings makes it easy to understand the devoted relationship he fostered with his art students. After studying art in Michigan, New York, and Washington, D.C., Bagley and his wife, Marianne, moved to Orlando in 1950.
Once here, he founded the Orlando Institute of Art at 332 Magnolia Ave., Orlando's first school of fine art. Later, the institute moved to 2408 E. Robinson. Bagley was also a founding member and former president of the Artists' League of Orange County, which has plans to publish a book on charcoal drawing that Bagley was unable to finish in his lifetime.
In 1951, Bagley began teaching at Orlando Junior College and soon became the chairman of the art department as well as the college's first artist-in-residence. When the school closed its doors in 1971, Bagley went on to teach at Crealdé School of Art, Lake- Sumter Community College, Maitland Art Center, Valencia Community College, and the Loch Haven Art Center, now the Orlando Museum of Art. He also continued to teach workshops locally and across the country, especially in Michigan, Missouri, North Carolina, and Tennessee.
Portrait of a life
The collection now residing at the History Center is full of photos, planning notes, and correspondence from these workshops. These documents portray a devoted group of eager attendees and students, and several photo albums are devoted to Bagley's Wednesday Group, which long met in his home at 120 Spring Lane, Winter Park.
When he wasn't sharing his love of art with others, Bagley was working on his own career as an accomplished landscape and portrait artist. He worked primarily in charcoal and oil as well as watercolor, and the collection is full of photographs of his work. There are also two original pen sketches from 1965.
Before coming to Orlando, Bagley trained at the Flint Institute of Art in Michigan, the Art Students League of New York, and the Corcoran Gallery School in Washington, D.C. He exhibited in many solo exhibitions in Florida and across the country.
Along with programs, flyers, and news clippings from several of these shows, Bagley's collection includes a behind-the-scenes view of his art business including shipping correspondence and discussions of art pricing. The collection also holds some precious examples of the way art permeated his entire life, such as a few of Bagley's hand-drawn Valentine's Day cards to his sweetheart and wife, Marianne.
The Bagley collection also reveals a devoted family man and father with a sense of fun, as well as an influential artist and teacher. Bagley made Halloween costumes for his daughter, Andrea, and cooked breakfast for sleepovers. Family photographs and personal documents are included in the collection, especially concerning Andrea Bagley. Several of Andrea's poems and manuscripts as well as photos of her involvement in the community reside in the collection.
At the Art Legends of Orange County kickoff event in September at the Orange County Board of Commissioners' Chambers, the county's director of Arts & Cultural Affairs, Terry Olson, asked the crowd to share reminiscences about the artists and art patrons being honored. Many of Bagley's former students stood to share the impact he had on their lives and fondly remember that he was never seen without a shirt and tie. Along with the other art legends, Ralph Bagley has helped shape the art community of Central Florida, and we feel honored to have a piece of that story in the Historical Society's collection.
If you are interested in getting to know Ralph Bagley through his collection, or if you'd like to donate your own collection, please contact the History Center's collections manager, Whitney Broadaway, at whitney.broadaway@ocfl.net or 407-836-8587.