By Mark Terry for the Fall 2018 edition of Reflections magazine
This is the extraordinary story of an Orange County native who became an aviation pioneer and world-class airshow performer. 
Grace Ellen Butt graduated from Winter Park High and Rollins College and was a debutante of the Rosalind Club. She was my mother's first cousin, but to my generation, she was the legendary "Grace the Ace," an unconventional maverick full of stories about her adventures around the world. 
She was born on Dec. 6, 1927, the second child of Dr. Cecil Gascoyne Butt and Ruth Ellen Abbott Butt. It was the same year "The Lone Eagle," Charles Lindbergh, had made his grueling 33.5-hour solo flight across the Atlantic from New York to Paris. 
Grace's father practiced dentistry in Orlando. Her grandfather, Judge Cecil G. Butt, was a noted jurist in Orange County, and her great-grandfather, Dr. James Nixon Butt, was one of Orlando's first doctors, arriving sometime just before 1884. Her mother's father, John Abbott, worked at the Ponce Inlet lighthouse.
The story begins in tragedy. Cecil, Grace's father, died suddenly on Oct. 1, 1931, when she was not quite 4 years old. He was only 44. It was the time of the Great Depression, and Florida was hit hard, framing the years when Grace and her only brother, also named Cecil, grew up. 
Young Cecil decided early that he was going to carry on his family's legacy of medicine, and he ultimately became chief pathologist at Orange Memorial Hospital, the precursor of Orlando Regional Medical Center. Grace, on the other hand, was mischievously creating explosions with her chemistry set in the basement of the school she attended. Clearly, she was destined for other things, and the sky, as it turns out, was the limit.
Soaring past the lighthouse
The gift of an airplane ride – a present from her mother on Grace's 10th birthday – would define her future. In an open-cockpit biplane, a Waco Model 10 Float Plane, Grace experienced flying for the first time, rising from the Intracoastal Waterway and soaring past the lighthouse where her mother was born. It was the golden age of aviation; Amelia Earhart, who had disappeared that year, dominated the headlines.
The war years that followed gave Grace the means to make her dreams of flight a reality. Posters featuring images such as Rosie the Riveter were encouraging women to work for the war effort, and Grace had a fascination with all things aviation. Soon she found herself at Hoequist Airport at the intersection of 40th Street and Rio Grande Avenue in Orlando, cleaning parts in exchange for flying lessons.
Grace joined the Civil Air Patrol, and with the help of the Civilian Pilot Training Program and a push for women to become aviators by First Lady Eleanor Roosevelt, she learned mechanics and the art of flight. Under the guidance of Elmer Hoequist, she soloed on her 16th birthday, and by her 17th birthday, she had earned her Private Certificate. 
During the war, Grace flew reconnaissance for the Civil Air Patrol out of Orlando as a private citizen, searching for enemy activity along the coast of Florida. After the war, she became a flight instructor, married, and moved to Madison, Wis., where she began flying charters for Allen "Al" Beyer – "Beyer the Flier" – while her husband, B. Garnett Page, completed law school. It was Buyer who would give her that trademark nickname that would characterize her career.
The call of the West
During this time,  Grace and her husband began a family, eventually having three children. After her husband finished law school, the family moved back to Florida. But being a housewife in Fort Myers was not Grace's calling, and she separated from her husband and traveled west with her children. Signing up with George Crockett of Alamo Airways in Las Vegas, she piloted tourist flights into the Grand Canyon and charter flights to Los Angeles.
In 1965, Grace came home to Winter Park. With the money she earned as a flight instructor for Showalter Flying Service, she returned to Rollins to pursue postgraduate work, earning a master's degree in English. But she felt the warm west wind calling her back, and she packed her car and drove to Los Angeles, where she earned her Airline Transport Rating and started a flight school and charter service out of Long Beach. 
Encouraged by airshow comedy stunt pilot Captain Dick Schram – "The Flying Professor" who had borrowed her plane many times for his acts – Grace performed in her first airshow. That was in May 1969 in Jean, Nev., just a short distance outside Las Vegas. 
Then, in cascading tragedies, Capt. Schram was killed the next month at an airshow in Redding, Pa., and then her dear brother, Dr. Cecil G. Butt III, was taken by heart disease in July of that same year. Deeply saddened, Grace returned again to Winter Park. 
With the encouragement of veteran airshow pilot Walt Pierce, she persevered and booked her first major airshow in Kissimmee. It was there that she met Beverly "Bevo" Howard, another airshow great who became her next mentor. Using the McDonald airport as a base (now the Orlando Apopka Airport), Grace began her greatest adventure as the airshow performer "Grace the Ace."
Comedy in the air
Grace was not just a stunt pilot – she was a comedian! Sometimes she would make her entrance, for example, by pretending to be the winner of a free flight during the show, and then would appear to accidentally run over the pilot after he prop-started the plane. 
Her act was extremely demanding and dangerous. She flew to music in her bright yellow Piper Cub with streaming ribbons and colorful smoke. Bags of flour were attached to her wing tips, and she would break them by scraping a tip on the ground as she flew past the audience.
Then, rising dramatically, performing loops, spins, and near-crashes at low altitude, Grace wowed the crowd. She was one of the first airshow performers to choreograph her act to music, and was the first women to master a comedy act on the professional airshow circuit.
In 1974 Grace took her act international, performing at Abbotsford International Airshow for thousands of spectators and the airshow's guest of honor, King Hussein of Jordan, an accomplished pilot himself. She had arrived as a performer among performers (and friends) such as Walt Pierce, Mary Gaffney, Duane Cole, R.A. "Bob" Hoover, Art Scholl, Charlie Hillard, Jimmy Franklin, Joe C. Hughes, the U.S. Air Force Thunderbirds, the U.S. Navy Blue Angels, the Army Golden Knights, and many others.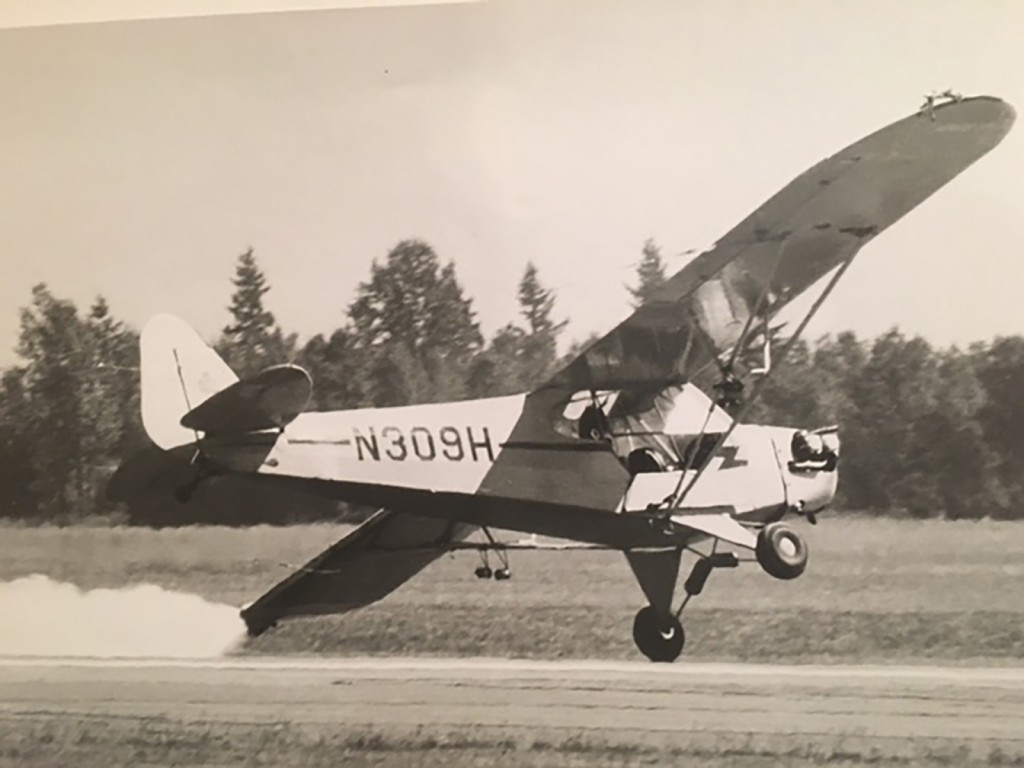 "Wow! She's a wild one!"
In 1977, Grace the Ace set an unofficial spin record of 82 turns in Arizona and almost lost her life that year in an airshow accident. As she always did, Grace shook it off and flew the Butte Montana Airshow just two weeks later with Evel Knievel. "Wow! She's a wild one!" he exclaimed from the announcer's stand. 
Grace traveled to South Africa in 1979 with Great American Airshows on an acclaimed country-wide tour. It was there she met and married Derek Tinsley; they would remain together for the rest of her life. When she officially retired as an airshow performer in 1987, she continued to fly and began to paint and sail, following her love of adventure on to canvas and the open water. 
Grace passed away in Santa Maria, Calf., of natural causes on Nov. 30, 2002. When she died, she was certified as an airline transport pilot, flight instructor, instrument instructor, and multi-engine instructor. She was also an airframe and powerplant mechanic, held an inspector authorization, and had logged more than 22,000 hours of flight time. 
Note: Historical information and photographs of "Grace the Ace" AirShows, © The Bold Group Ltd. All rights reserved.