by Daniel Bradfield, Oral Historian
Orlando lost one of its most prominent and beloved gay icons on July 15, 2019. Joel Strack lived his life out and proud during extremely difficult times for gay men in America. During his years in Orlando, he collaborated with other Central Florida LGBTQ+ activists to organize Gay Days, Come Out with Pride, and Orlando's first Pride Parade. He was a founding member of the Orlando Gay Chorus and a long-standing board member of The Center on Mills Avenue, which serves the LGBTQ+ community, as well as a driving force of the LGBTQ History Museum of Central Florida. He is dear to so many peoples' hearts and will always be a local LGBTQ+ hero, but it's important to remember other parts of Joel Strack's story, especially the pride he had in his career at Disney. He was a hilarious, generous, and hard-working man. During the summer of 2017, I had the honor of recording an oral history with him about his time as a Disney character actor.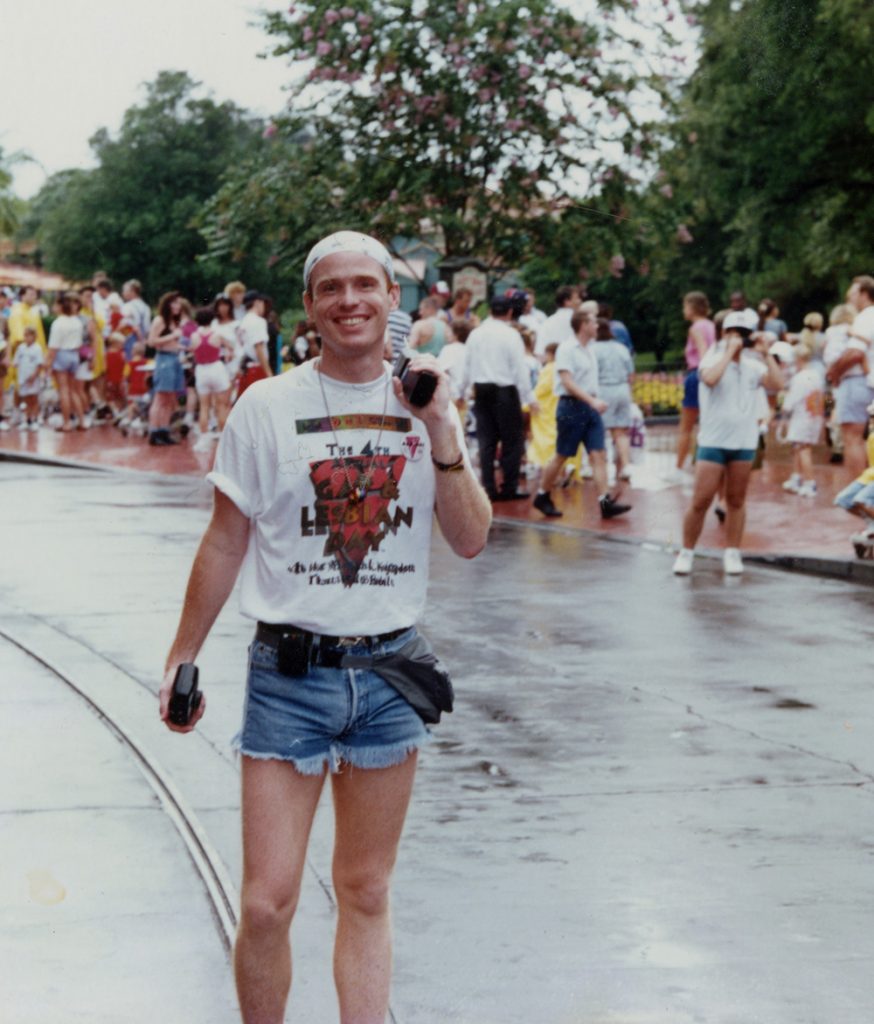 Born in Sycamore, Illinois, on Leap Day, February 29, 1960, Joel was the fourth of eight siblings. After a summer working for Disneyland in California, he moved to Orlando in 1982 to work as a cast member of Walt Disney World Studios. Joel said, "Disney, in general, became a bastion for gay guys," because of the difficulty LGBTQ+ individuals faced finding jobs in the early 1980s in Florida. However, Disney was still not a perfect place for a young gay man. He recalled being demoted from his status as trainer for outing himself during a presentation. "That is sort of the line that I drew for myself while thinking about how out should I be at work," he said. "[It] was based on: 'What is the nature of the straight people around me? How much do they express themselves, and their families, and their husbands, and their kids, and their wives?' "
Joel started as a dancer in the Main Street Electrical Parade but quickly moved into costume performing, where he stayed throughout most of his career, eventually moving into training and then casting for character actors. Some of his most frequent roles included Baloo from The Jungle Book, Geppetto from Pinocchio, and Orville from The Rescuers. "This thing was ginormous. It was for guys 6 foot to 6 foot 4 – it is a huge bird. It's an albatross," Strack explained about his Orville costume. He described these enormously heavy costumes and the physical demands of the parades in Orlando's summer heat. He likened the experience to long-distance running. "When you are in the hot summer day, you hit your window and you move through it," he said. "You know that you've got the strength to do it and you just drive. When the parade is over, you do your collapse."
Even with these physical challenges, Joel spoke reverently about his work and its importance to him. "Children understand magic and fantasy in a way that adults don't," he said. "Part of my job was understanding that fantasy and magic." As an example, Joel recalled the time when a little girl, about 4 years old, came up to him when he was in his Geppetto costume.
"She watched the movie, I guess, and just came up and said 'Geppetto, Geppetto, Geppetto,' and I said to her – we're not supposed to talk in costume, right? . . . but she's the only one who could hear me. So, through Geppetto's opening where I breathe through, I said, 'You are the best little girl in the world.' She turned and looked up at me with this glow in her face and I hugged her, and she hugged me, and she went on her way. I broke the rules, I talked in costume, and that little girl got a magical experience."
Joel toured internationally as a costumed actor throughout his career. During our multi-hour conversation, he spoke lovingly of his time at Disney World, even saying, "I like to believe that I changed the world, i.e., Walt Disney World."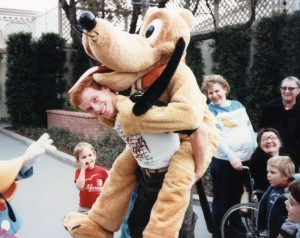 Joel certainly changed Orlando during his life here, and we like to think that maybe he changed the world by doing so, too. Though Joel passed away two years ago, he is certainly not forgotten by history, nor in the minds of his beloved friends, family, and all the lives he touched at Walt Disney World and beyond.
In September, Joel Strack will be honored at the 15th John Young History Maker Celebration as the Orange County Regional History Center's 2021 John Young History Maker Past. This award is bestowed on a Central Floridian who is no longer with us, but whose lifetime of achievement has made a historic impact on the community.