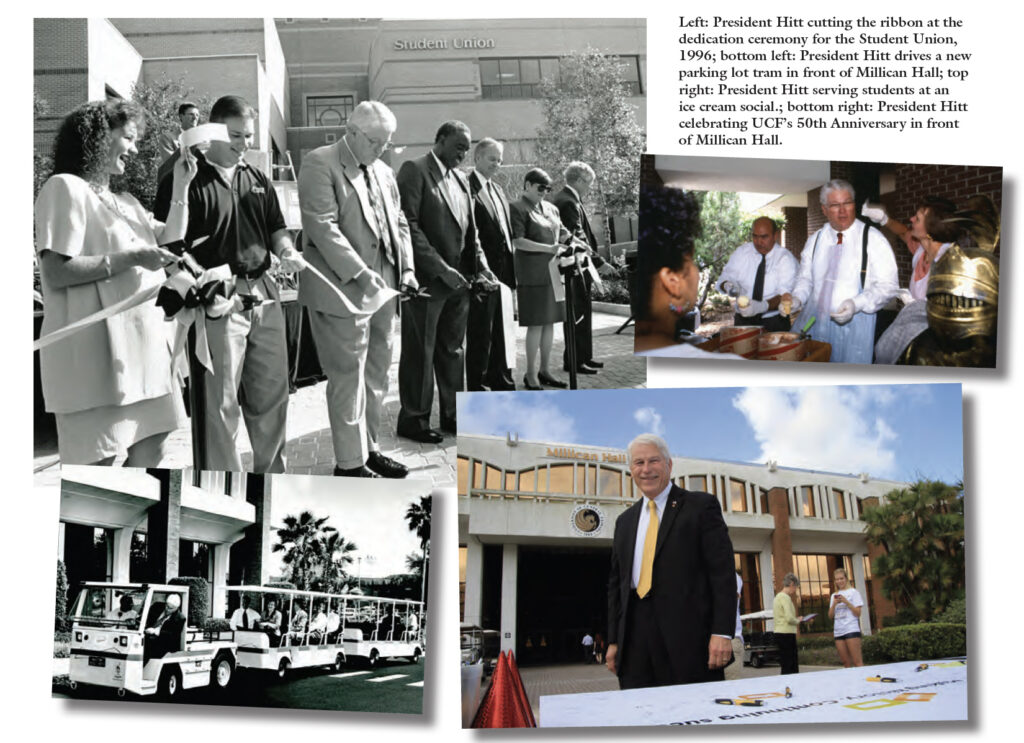 In 2015 the History Center observed its tenth John Young History Maker Celebration, named for NASA's longest-serving astronaut, who grew up in Orlando. In 1970, Captain Young had been the first commencement speaker for the brand new Florida Technological University, which would become the University of Central Florida. It seemed fitting that the 2015 John Young History Maker Award was presented to UCF's president at that time, Dr. John C. Hitt – the fourth president to lead the university.
When he received the award, Hitt had served as UCF's president for 23 years, nearly half the lifespan of the institution itself. During his tenure, he had increased enrollment while also raising admission standards, increasing funding for research, adding new buildings to the campus, and establishing community partnerships.
Hitt took office at UCF on March 1, 1992, when the university boasted an enrollment of nearly 22,000 students. Under his leadership, that number more than tripled to 69,086, crowning UCF as the nation's largest university based on undergraduate enrollment.
It was no small feat to go from one of the newest universities in the nation to one of the largest in a span of only 50 years, and President Hitt was one of the chief reasons for UCF's remarkable growth.
During his presidency, UCF was ranked as a "very high research activity" university by the Carnegie Foundation for the Advancement of Teaching. The campus evolved and grew with new programs and buildings, including the Bright House Networks Stadium and the Burnett Honors College. Even the construction of the Student Union, the hub of all student activity that sits at the heart of the campus, was completed during Hitt's presidency.
In addition, Hitt's legacy as the "Partnership President" made him especially deserving of recognition as the John Young History Maker. In his inauguration speech, Hitt described UCF as "a vital cultural and intellectual resource and as an indispensable force for economic development for all of Central Florida," and he made cultural and economic outreach the cornerstone of his presidency.
From this philosophy, programs such as the UCF College of Medicine at Lake Nona were realized. Such a project required the cooperation of government officials and private businesses to create a "medical city" with a projected 30,000 new jobs and an annual $7.6 billion boost to the economy.
Even in his inaugural speech, Hitt observed that "it is a refreshing and endearing characteristic of Orlandoans that they think they can do just about anything." During his time at the helm, he too became one of those Orlandoans who not only think they can do anything but manage to make it happen.
By Whitney Broadaway, adapted from its original publication in the Winter 2015 edition of the History Center's magazine, Reflections from Central Florida.
Images courtesy of the University of Central Florida.