By Kara Kovalev, Registrar, Orange County Regional History Center
Sanford's charming historic district sits along the shores of Lake Monroe. The town was incorporated in 1877 by Henry Shelton Sanford and ten years later suffered a devastating fire that took out most of the downtown area. Fortunately, its residents were able to come together and rebuild, replacing wooden structures with brick. Many of the structures built during the construction booms of 1887 and 1910 still stand today. According to local lore, many of their inhabitants remain as well and have shown themselves in hauntings, both friendly and mischievous.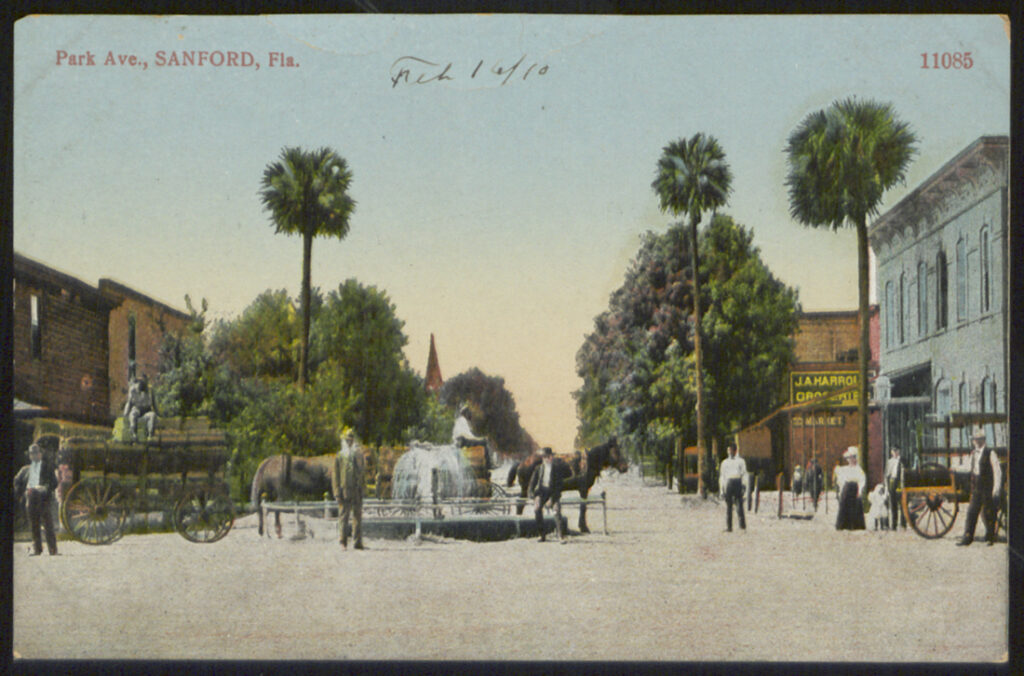 Percy and the fire station
Sanford's first fire station, built in 1887 at 109 South Palmetto Avenue, was originally three floors tall, with the top floor used as office space, sleeping quarters, a jail, and a courtroom. In 1928 the third floor was removed because it was in poor conditions.
A notable former occupant of the third floor, Percy Bayliss, was a convicted murderer who was executed in the only known legal hanging in Seminole County, directly behind the building. A later resident of the building, Barbara Farrell, claims she has heard Percy pacing above her at night. In recent years, the second floor has been renovated into a rental apartment where visitors claim they hear strange noises and feel they are in danger. Perhaps Percy holds a grudge against the town that executed him.
Cold spots in the brewery
Sanford Avenue is home to a building that has seen many occupants come and go. It has housed a meat business and women's wear store in the 1920s, a restaurant and market in the 1940s and 1950s, and a campaign office for Barack Obama in 2008. This building is perhaps most associated with the Stokes Fish Market, which occupied the site from the 1940s to 2005.
Today, Wops Hops Brewery calls the building home, as do several rumored specters. Patrons have reported cold spots and apparitions throughout the brewery, and a medium has noted the presence of five ghosts. Jennifer, a victim of strangling, and Claudia, a former employee of a past business, are said to roam freely. Stephen prefers the bathroom area and does not seem to get along with dogs or children. David makes himself known in the beer garden. The last spirit has never been identified but is believed to be a child.
Haunted hotel?
Another building with a captivating story, the Mayfair Hotel on East First Street was originally named the Hotel Forrest Lake after a Sanford mayor. It was built in 1926 and was a popular spot for locals to commune for dinner, dancing, and relaxing. Just two years after opening, the hotel was forced to close due to financial scandals. In 1937, new owners bought it and reopened it as the Mayfair Hotel, hosting guests until the 1960s.
 Over the next few decades, the Mayfair building served as the Sanford Naval Academy, a school for boys, and later the headquarters of a religious mission. Throughout its long life, the hotel has played host to some famous faces, including golf legend Arnold Palmer and the New York Giants baseball team.
Some not-so-famous faces are rumored to also populate the now-abandoned building, including a shadowy black figure and a woman in white. Locals report hearing the sounds of a piano drifting from the vacant hotel, and stories have spread about it being the site of gruesome deaths. While not all the ghosts can be identified and not all the stories can be confirmed, the Mayfair Hotel is certainly a place of mystery.
Several other entities have been reported in historic Sanford. Storied specters include a mischievous little boy who plays pranks, a couple who haunt Magnolia Square, and a little girl who somberly roams Hollerbach's German Restaurant. One way to hear more them and other Sanford ghost tales is to take a tour with Gary Holmes at Sanford Tours and Experiences. Holmes has investigated several buildings in Sanford, including that of his own business, Sanford Homebrew Shop. He has been a local for decades and is an expert in all things Sanford, including its local brewery scene. Especially at Halloween time, it's fun to indulge in a good scare.