by Halifax Historical Society & Museum
"Brownie, the Town Dog" is the inscription on the burial marker located at the south end of Riverfront Park in downtown Daytona Beach. Who was Brownie, and where did he come from?
In 1940, a large brown short-haired dog wandered into the downtown area. Following a few days of exploring the sidewalks, he settled on the corner of Orange Avenue and Beach Street as his place to live. This corner was formerly the location of Liggett's Drug Store, where Stavro's Pizza is today.
Something special

On the Orange Avenue side of the corner was the Daytona Cab Co., which had an awning and housed a group of telephones. The cab company owner, Ed Budgen, offered the hungry dog a portion of his lunch, which he readily accepted. From the first, Budgen noticed something special about this dog that had such friendly eyes and demeanor. He was named Brownie and from that point on became a permanent downtown fixture.
Cab drivers and a nearby restaurant owner fed Brownie scraps, and he would venture up and down Beach Street during the day and sleep at night under the cab company's awning. Finally, he was given a cardboard box to sleep in.
During this time, downtown shopping was popular, and Brownie became familiar with everyone. He was a special favorite of the kids and seemed to relish their attention and would play with them endlessly in Riverfront Park.
Shoppers always stopped by to greet him, and he always gave them a friendly wag of his tail. He would sit at the feet of visitors who were waiting for a cab or a bus and not leave them until their transportation had arrived and they were on their way.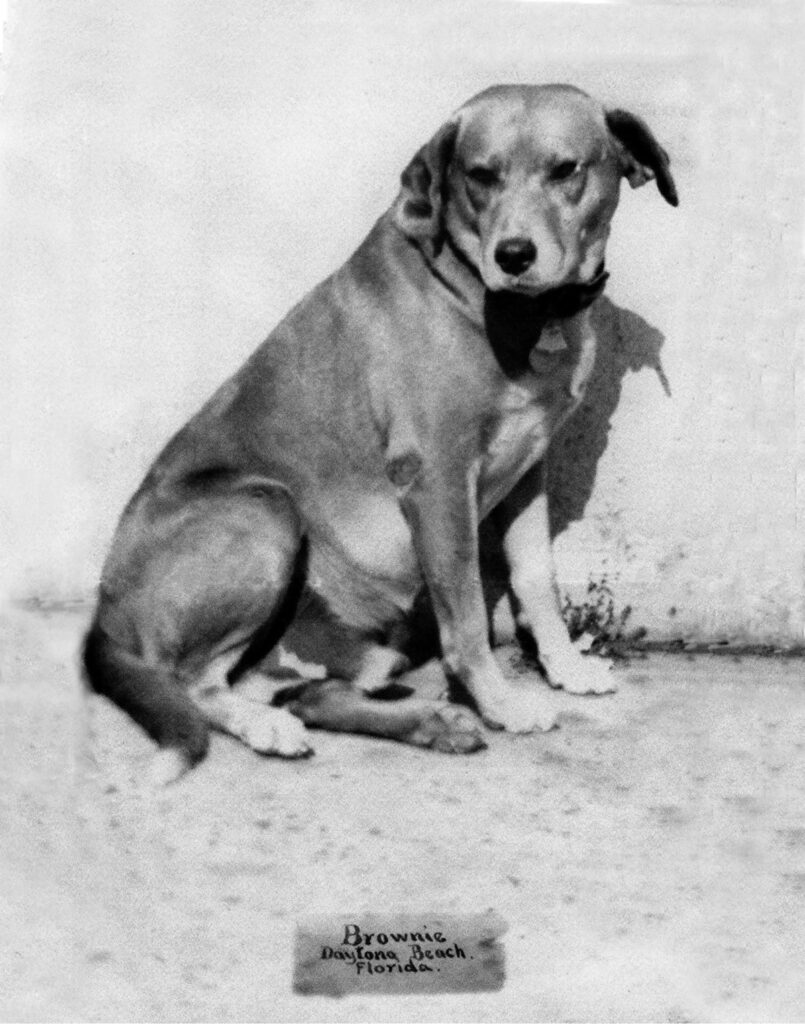 Goodwill ambassador

The townspeople of Daytona Beach bought Brownie a license every year. His tag always had #1 on it, signifying that he was the goodwill ambassador for the town. Cab drivers eventually build him an elaborate doghouse, complete with his name on it. A coin-collection box was put on the house so that everyone could donate in Brownie's name at the Florida Bank & Trust (the current Halifax Historical Museum). A town dog with his own personal bank account, how special! One of the many perks Brownie received was an occasional pint of ice cream, which he dearly loved.
Taxi drivers and police officers who patrolled Brownie's area were among his favorite companions. Every night Brownie would join the patrolman making the rounds of the downtown area.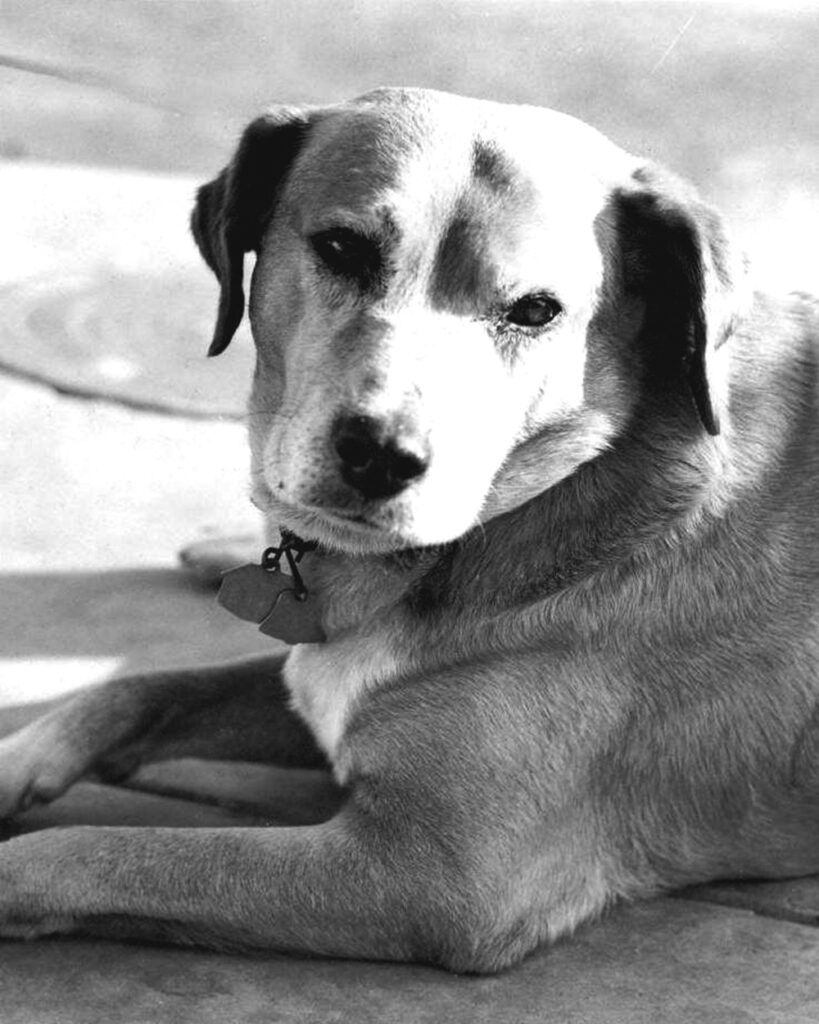 National fame

The story of Brownie was written in national magazines and newspapers. Visiting tourists would seek out Brownie as they strolled down Beach Street so that they could have their picture taken with him. Brownie received Christmas cards and presents from visitors from all over the United States every year.
One day Brownie was struck by a hit-and-run driver and suffered a broken hip. There was an outpouring of concern and sympathy from all of his friends. The entire community considered him their responsibility. Brownie received good veterinary care and recovered completely except for only a slight limp.
Brownie died of old age in October 1954. Many tourists sent letters of condolence. Brownie's bank account in the Florida Bank & Trust held enough money to construct a casket and purchase a headstone. The city of Daytona Beach provided him with a final resting place in Riverfront Park on Beach Street across from the bank and directly across from the place he spent so many years as the town's special ambassador.
Seventy-five friends attended Brownie's funeral, and four pallbearers laid him to rest. There wasn't a single dry eye as Mayor Jack Tamm gave the eulogy. "Brownie was indeed a good dog," the mayor said.
Brownie was prominently featured in a State of Florida exhibit on famous Florida animals in Tallahassee, Florida's state capital.
Brownie would be happy today to see how many people, locals and visitors alike, still remember him with love.
Republished with permission from the Halifax Historical Society & Museum. Photos courtesy Halifax Historical Society Museum. Learn more about their museum at HalifaxHistorical.org.