By Rachel Williams, Historian, Orange County Regional History Center
How is the influential American author Kurt Vonnegut historically tied to the Orlando area? In July 2023, we posted on the History Center's Instagram account about a scrapbook we found during a research visit with a member of the Koehne family in Gotha – a town founded in 1885 by a German immigrant. The Koehne scrapbook included writings and articles about the relationship between the family and the Vonneguts of Indianapolis, Indiana. Yes, that Vonnegut family – it's a name many people would know because of Kurt Vonnegut, author of novels including Slaughterhouse-Five. We decided to expand on the story in a blog post for German American Heritage Month, traditionally observed in October.
Germans have been immigrating to the United States since before the formation of the country. In fact, German immigrants were among the Europeans who established the Jamestown colony in Virginia in 1607.  Hundreds of thousands of Germans would come to the United States in the following decades. The 1840s and 1850s saw some of the largest surges in German immigration due to the failure of the 1848 Revolution. It was during this time that Charles Koehne came to the U.S. from Oldenburg, Germany.
German culture in the New World
Charles Koehne arrived in New York in 1852. He spent some time in Ohio before moving in 1856 to New Ulm, Minnesota – a small settlement of Germans. Here, he helped establish the local Turnverein, or Turner Society. The Turnverein (from German, turnen meaning "to do gymnastics," and verein meaning "association" or "club") were begun in Germany by Friedrich Ludwig Jahn in the early nineteenth century during the Napoleonic Wars.
These clubs promoted physical health through calisthenics and German pride. Many Turners who came to the United States, especially after the 1848 Revolution, established Turnverein where they settled in order to remain connected to their German culture. Charles Koehne was active in the creation and teachings of the Turner Society.
In 1858, Koehne married Wilhelmine Fritsche (originally from Beutelsdorf, Germany) in New Ulm. Shortly after, the couple moved to Indianapolis, where they started a family. The Koehnes would have ten children, nine of whom survived to adulthood. Charles started a picture-framing business with another German immigrant, Peter Lieber. He also became involved with a local school called the German-English Independent School of Indianapolis. He served as a vice president of this school and was involved with teaching children about their German culture. Clemens Vonnegut Sr. served as a president of the school. It is likely here, or at the local Turnverein, that members of the Koehne family met the Vonnegut family.
Joining other Germans in Florida
The Koehne family resided in Indianapolis for nearly 30 years before moving to Florida in 1885. Charles's health began to decline, and his physician suggested a warmer climate. After reading a pamphlet promoting a new German settlement in Florida with several orange groves and much uncultivated land, he visited Gotha for several weeks and ultimately decided to move the family there. The Koehnes built their home and planted an orange grove on a 20-acre tract of land on Lake Olivia. Charles also bought the town's general store and ran it with his family.
The town of Gotha was founded in 1885 by Henry Hempel, who named it after his hometown in Germany. Only three families were reported to live in the wooded area before Hempel's arrival in 1876. By 1885, Hempel, Henry Belknap, John and Eliza Mohr, and Eugene Friedrich had homesteaded land in the area, and Hempel laid out a town plat. The town set up a saw, shingle, and planing mill and built a schoolhouse and general school. Hempel wrote a pamphlet titled "On the Back Bone of Florida – Gotha, New Colony, Orange County, Florida," which circulated in northern cities and brought more German families to Florida, including the Koehne family.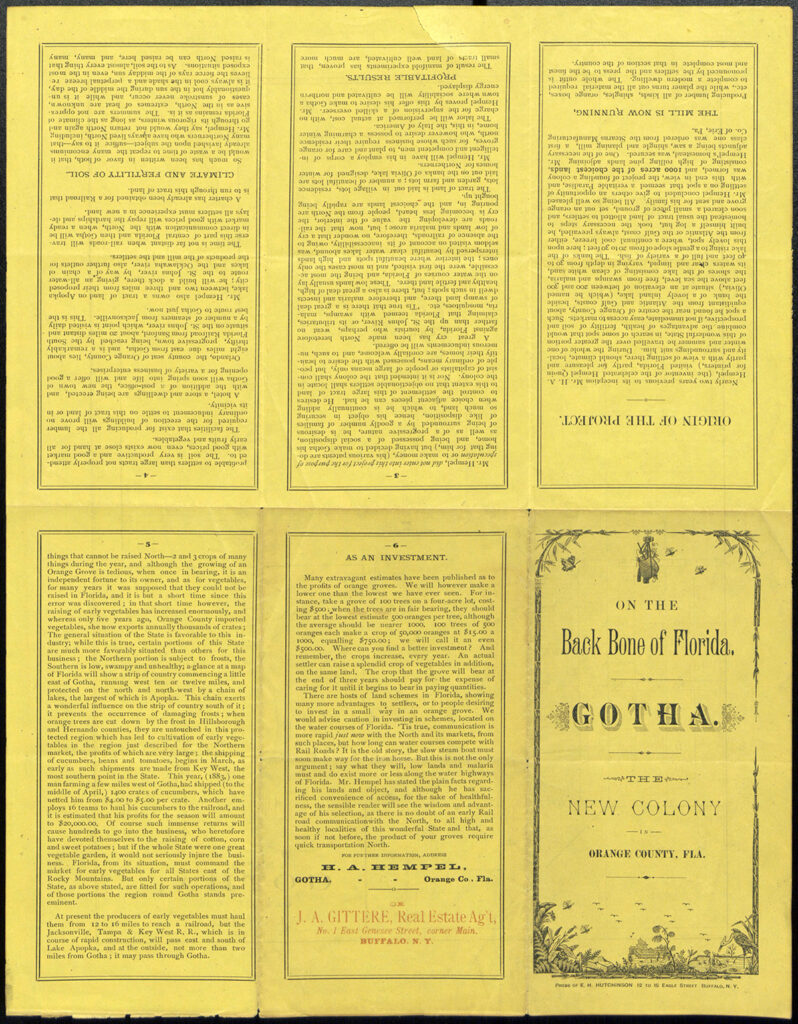 About 30 German residents of Gotha established the community's Turnverein and built a hall for meetings, dances, and gymnastics in 1887. Charles Koehne was very involved with the Turnverein and taught calisthenics in the hall. Due to his experience as a vice president at a school in Indianapolis, he served as a school superintendent in Gotha. Additionally, between 1890 and 1903, he served as Gotha's postmaster. Unfortunately, the Koehne orange grove only had one successful harvest before the Great Freeze of 1894-1895, which affected many farmers  in the area. It also hurt the family's general store, as the credit on the books grew with little hope of collecting.
In 1901, some of the Koehne children moved back to Indianapolis to pursue other business opportunities while Charles and his wife stayed in Florida to tend to continue to tend to the store and remain in the warmer climate. In 1910, Charles fell ill and died at the family's Gotha home. Even after his death, the family stayed in contact with the Vonnegut family. Two of the Vonnegut's – George and Franklin – were honorary pallbearers for Charles's wife, Wilhelmine, when she died in 1928. By 1945, Franklin Vonnegut (Kurt Vonnegut Jr.'s great uncle) still wrote letters to Charles and Wilhelmine's children, speaking highly of their father and his involvement in the Indianapolis Turnverein.