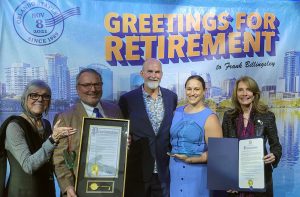 Congratulations to Frank Billingsley, the 2021 recipient of our Donald A. Cheney Award, which each year honors a Central Floridian who embodies a lifelong dedication to preserving the area's history. Pam Schwartz, the History Center's executive director, surprised Billingsley with the award at a Nov. 8 event that celebrated his retirement after more than 30 years in leadership roles with the City of Orlando.
Presenting the award on behalf of the Historical Society of Central Florida, Schwartz praised Billingsley's expertise about Orlando-area history and his support for it. "Whether knowing some historical fact about everything that comes up in conversation, or connecting us to donors, or showing up on my museum's doorstep with a box of items he 'thought might be worth saving,' Frank has both made history for this community and championed its preservation," she noted. "Frank, we recognize your many contributions to this community, but especially those that confirm the amazing place we have been and the even greater place we are becoming."
The award is named for the late Judge Donald A. Cheney, a devoted student and promoter of Central Florida history who was a founder of the Historical Society and all that led to today's nationally award winning History Center.