Orlando's Ginger Stanley Hallowell blazed cinematic trails in a sci-fi classic and as Florida's photogenic underwater ambassador.
We at the History Center were saddened to learn of the death on Jan. 19, 2023, of Ginger Stanley Hallowell of Orlando. She was 91. An excellent swimmer, Hallowell pioneered underwater work in Florida-filmed movies including "Creature from the Black Lagoon," which earned her fans in her later years through film festivals and screenings, including this one in 2018 at the History Center. In 2010, she was featured in this article in the History Center's magazine, Reflections from Central Florida.
The classic 3-D horror movie "Creature from the Black Lagoon" produced two iconic images: the creature himself – a hulking aquatic gill-man – and the beautiful object of his desire, swimming above him in a luminous white bathing suit.
"It's Beauty and the Beast as a watery King Kong," California journalist William Kowinski wrote an appreciation of the 1954 film, which is part of Universal's Legacy Collection on DVD.
Because of the movie's credits, most references to its famous water ballet incorrectly identify the swimmer in the white suit as Julie Adams, who received star billing. In fact, the Creature's swimming partner was Ginger Stanley Hallowell, the aquatic stunt double for Adams who partnered with Ricou Browning to create the chilling scene. (Browning portrayed the gill-man in the water; the 6-foot-5 Ben Chapman played the part on land.)
"We didn't start getting credit until the last seven or eight years," Hallowell, a longtime Orlandoan, said in 2010, looking back on a career that also included television, modeling, and teaching.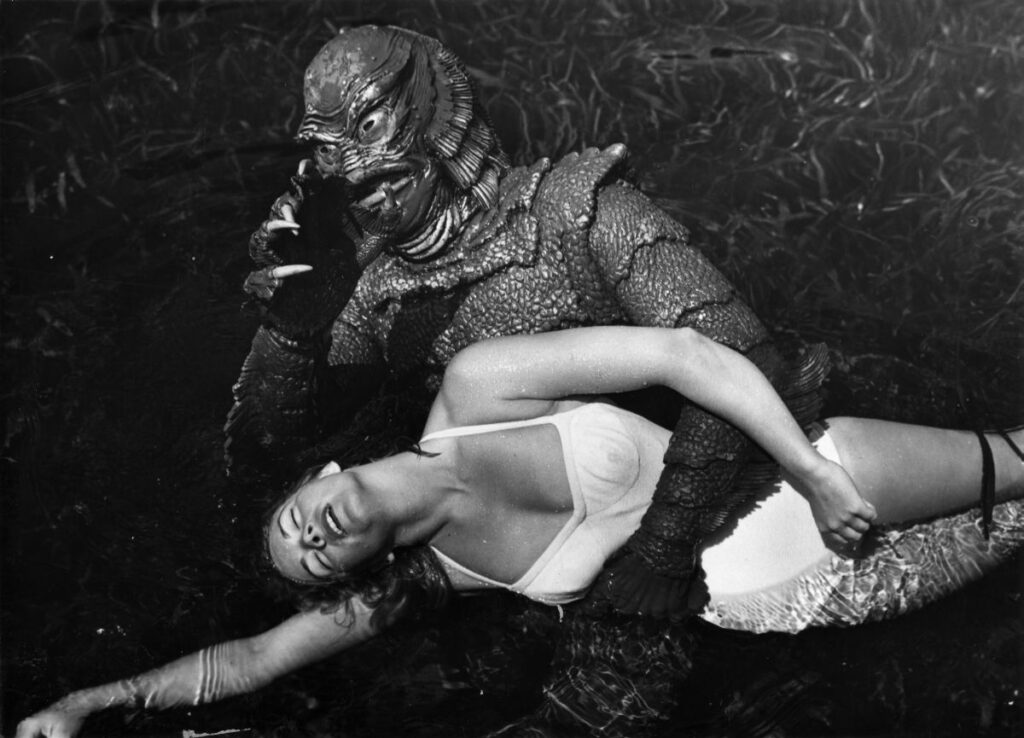 Dangerous waters 
Hallowell made it all look easy, but she tackled difficult and dangerous assignments underwater. While filming the sequel "Revenge of the Creature," for example, she had to spend time in a big tank with real denizens of the deep, including sharks, that were much scarier than the gill-man.
The film crew would overfeed the sharks to make sure they weren't hungry, she recalled in 2010. What really bothered her were the moray eels that swam circles around her.
Deep underwater swimming can be dangerous in itself. If you rise to the surface too fast with too much air in your lungs, you can be in big trouble, Hallowell said.
In one of her most difficult scenes in the original "Creature," the gill-man grabs Hallowell from the surface and pulls her down into a cave near the bottom of Wakulla Springs, more than 60 feet straight down. Both swimmers were getting their air from hoses attached to tanks near the mouth of the cave.
"I had to appear unconscious, but I also had to clear my ears to equalize the pressure, Hallowell told a reporter in 2002. "That's hard to do if you're supposed to be unconscious." Her solution was to find a way to press her nose against Ricou Browning's shoulder to clear her ears before the pain got worse.
"I trusted Ricou," she recalled. "We had been swimming partners before."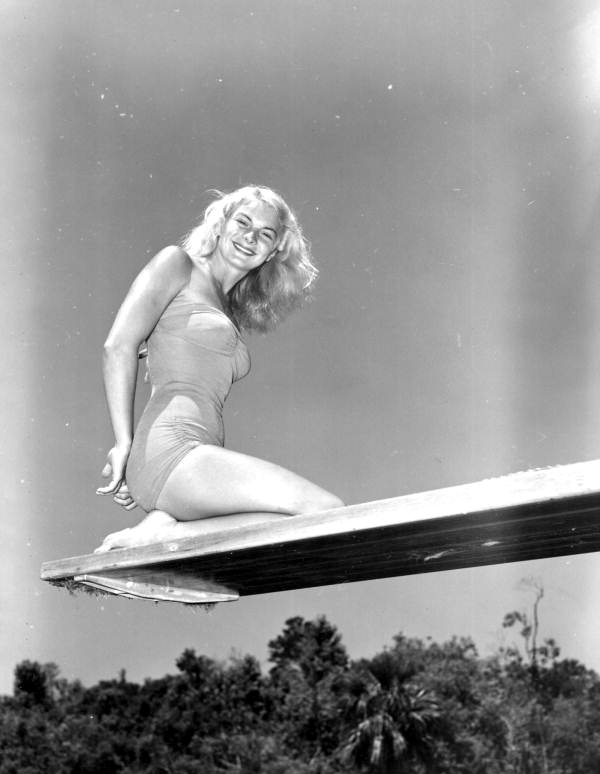 Underwater ambassador
Hallowell had met Browning at Weeki Wachee Springs, where she worked as an early mermaid and learned submerged-swimming techniques from the legendary Newt Perry, Florida's founding father of underwater showmanship.
After her stint at Weeki Wachee, she worked in the early 1950s at Silver Springs, where the Springs' public relations team sent dozens of pictures of Hallowell and her underwater comrades to national news organizations. Soon, she became one of Florida's most potent public relations ambassadors, her image captured by photographers including underwater-image pioneer Bruce Mozert of Ocala.
Hallowell also appeared in many short films, such as "The Porpoises' Christmas," filmed (like "Revenge of the Creature") in the big tanks at Marineland's Marine Studios. At Silver Springs, "they wanted to show how clear the water was, and they would dream up all these little stories," she recalled, describing scenarios for movie short subjects that ranged from an underwater carnival to a family Thanksgiving dinner – all staged deep in the 72-degree water.
Soon the Ocala attraction's publicity machine was paying off for Florida. In 1955, Howard Hughes flew in with a plane full of people to Ocala for the premiere of his movie "Underwater," starring Jane Russell.
The plan was for Hallowell and other Silver Springs employees to be in the audience for the film (which was actually shown on an underwater screen). Most of the Hollywood celebrities, including Debbie Reynolds and Eddie Fisher, stayed high and dry and didn't change into swimsuits, Hallowell recalled, but starlet Jayne Mansfield stole the show in a jaw-dropping red bikini. That's when Mansfield's career really took off.
Hallowell was taking off, too, in late 1955, when Silver Springs sent her to New York City for a December stint on CBS' "The Morning Show, where she exchanged pleasantries with host Dick Van Dyke as an underwater "weather girl."
Television was young, and the days of Doppler radar far in the future. Hallowell's part of the set was a large fish tank emblazoned with an outline map of the United States on the front. When Van Dyke would say something like, "It's snowing in the Rockies," Hallowell would draw snowflakes with a white makeup pencil on the map – and stay in the tank to repeat the show, broadcast live, through three time zones.
When she got back to the hotel, her hair had turned green from the chlorine in the New York City water that filled the tank.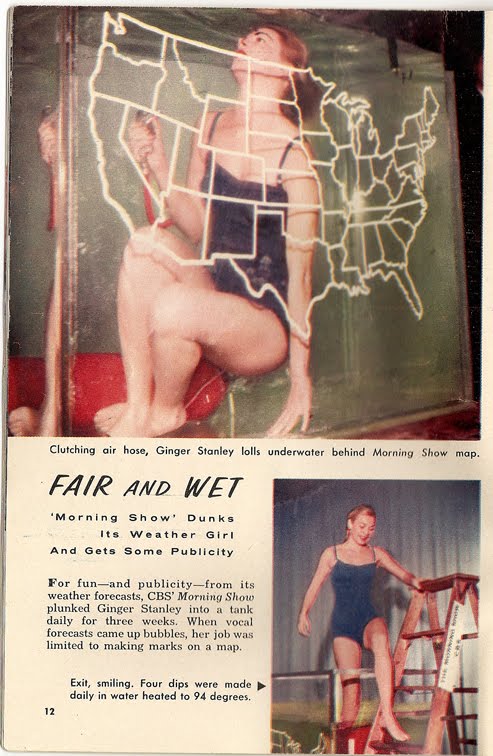 Sci-fi star
Hallowell's hair change colors, too, for the performance that earned her a place in the history of science-fiction and horror cinema. In the original "Creature," star Julie Adams was a brunette, so Hallowell's blonde hair had to be camouflaged.
Although she appeared as a daring underwater double in three filmed-in-Florida movies, it was especially her water ballet with Browning in that 1954 classic that brought her invitations to appear at vintage-movie festivals and conventions of horror-movie fans, decades after the "Creature" was released.
With marriage and motherhood, Hallowell switched to a long career of modeling. For 20 years she taught classes in image and modeling, retiring at 70.
"She's poised, graceful and beautiful," Cynthia Cardona Meléndez, then the History Center's former curator of collections, said of Hallowell in 2010. "She did some really groundbreaking work."